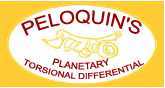 Self-locking Peloquin gearbox 02a - Corrado golf 3 vr6 / gti 16v / 1.9L TDI
On order, lead time 10 days.
Self-locking Peloquin gearbox 02A helical model LSD ATB
PELOQUIN brand self-locking device manufactured and produced in the USA.
Self-locking compatible for vehicles fitted with a 02A type gearbox 2-wheel drive only.
Compatible for:
Golf 3 GTI 16s
Golf 3 VR6 2.8L (not Syncro compatible)
Golf 3 1.9L TDI 90cv 110cv
Corrado VR6 2.9L
The kit consists of:
1 Peloquin self-locking differential
2 differential bearings
1 ARP differential bolts kit
2 gimbal tulip screws
1 5th gear cover gasket
8 o-rings
LSD "Limited Slip Differential" stands for Limited Slip Differential.
ATB "Automatic Torque Biasing" stands for automatic torque distribution.

The ATB LSD range requires no maintenance and no adjustment.
The only recommendation is to use an oil suitable for limited slip differentials.
When purchasing, please provide us with the details of your vehicle in the comments.
PELOQUIN'S American manufacturer of limited slip differential.
Customers who bought this product also bought:
Take advantage of our VW golf 1 2 3 polo 86c 6n 9n camber shims