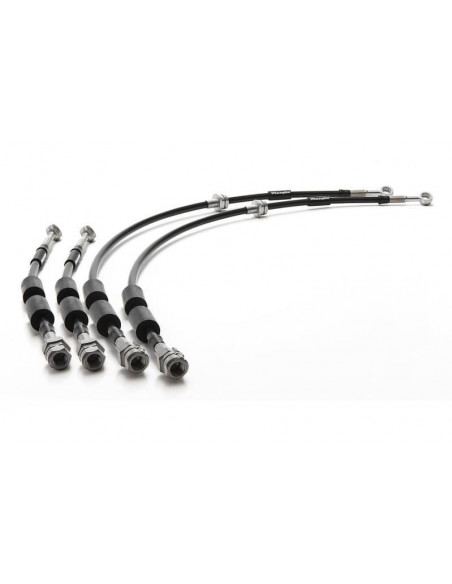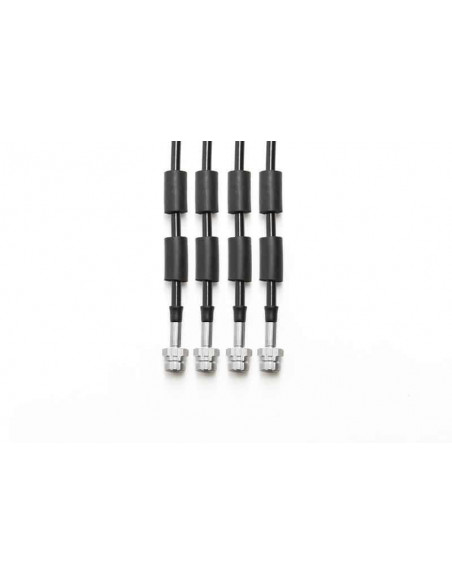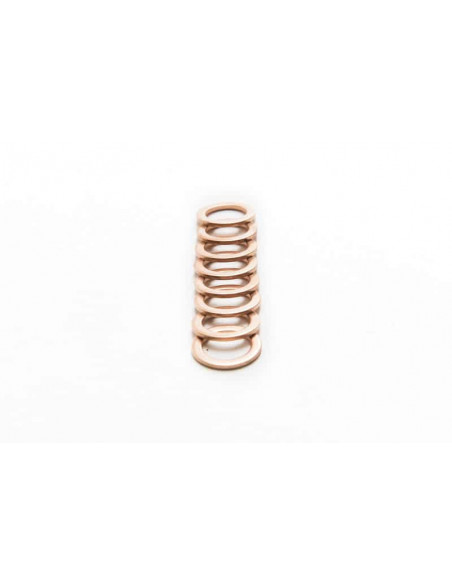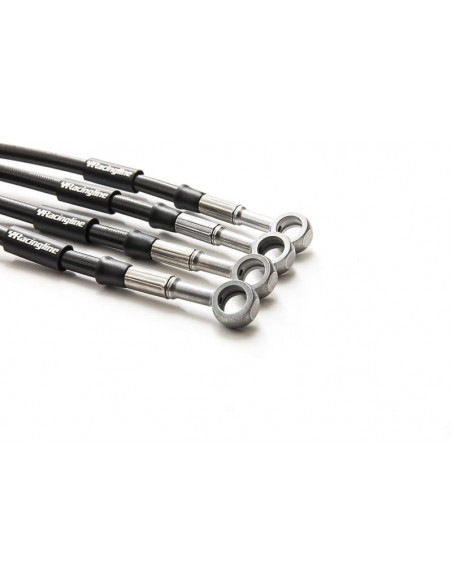 Kit of 4 Racingline aviation brake hoses for Audi S3 8V TT 8S / Golf 7 7.5 GTI R / Leon 3 Cupra 5F
Here is our Kit of 4 aviation brake hoses from RacingLine for Audi S3 8V TT 8S / Golf 7 7.5 GTI R / Leon 3 Cupra 5F

Take advantage of our RacingLine aviation brake line kit for Audi S3 8V TT 8S / Golf 7 7.5 GTI R / Leon 3 Cupra 5F
The aviation sheathing provides better protection for the rubber hose thanks to the metal braiding that surrounds it, and limits its deformation during braking. RacingLine aviation hose kits therefore provide braking with a more direct feel to the pedal.
Advantages and disadvantages of using an aviation hose

The inconvenients

The aviation hose can be blamed for its sometimes very high cost. To remedy this, we offer you an alternative: make your own aviation hose.
It presents a form of incompatibility with the ABS system, as we explain in Durite Aviation et ABS?

Advantages

The 'avia hose' is made to take very varied shapes and sizes, of different diameters, incorporate flow restrictors inside or 'calibers', purge plugs outside its circuit etc...

Reminder: It is maintained and sealed by two ends of factory-assembled metal fittings, which are most often screwed onto the parts to be connected (more details: composition of the aviation hose). It is tightened using screws called banjos. The tightness and resistance of the assembly are therefore dependent on the good condition of the overall fixing and braking system on which the device will be based.

various aviation hoses

The assembly of aviation hose allows to offer as advantages:


a gain in braking power,
to avoid losses due to the expansion of the hose,
better bite of the brake pads and caliper.
under heavy braking, the temperature of the brake fluid rises, causing the pressure in the brake hose to rise. The aviation hose will have the advantage over the standard hose of not expanding under these conditions and thus ensuring reliable, precise and efficient braking.
Not compatible if equipped with the Brembo 4-piston Performance Pack with 370mm discs
Installation only on vehicles equipped with electronic handbrake
Example of compatibility:
VW Golf 8 GTI 2020+
VW Golf 8 GTI Clubsport 2020+
VW Golf 8 R 2020+
VW Golf 8 2020+
VW Golf 7 & 7.5 GTI & Clubsport 2013-2020
VW Golf 7 & 7.5 R 2013-2020
VW Golf 7 & 7.5 2013-2020
VW Passat 2.0 TSI B8 2015+
VW Arteon 2.0 TSI 2017+
VW T-Roc R 2.0 TSI 2019+
VW Tiguan II 2.0 TSI 2016+
VW Jetta VII GLI 2018+
VW Polo 6 GTI 2.0 TSI AW 2017-2021
VW T-Cross 2017+
Audi S3 8Y 2020+
Audi A3 2.0 TSI 8Y 2020+
Audi A3 8Y 2020+
Audi S3 8V 2013-2020
Audi A3 8V 2013-2020
Audi RS3 2.5 TSI 8V evo 2017-2020
Audi RS3 2.5 TSI 8V 2015-2017
Audi TT 3 2.0 TSI 8S 2014+
Audi TTS 3 2.0 TSI 8S 2015+
Audi TTRS 3 2.5 TFSI 8S 2017+
Audi SQ2 2018+
SEAT Ibiza 6F 2017+
Cupra Leon IV FW 2020+
SEAT Leon IV FW 2020+
SEAT Leon III Cupra 5F 2014-2020
SEAT Leon III 5F 2015-2020
Cupra Ateca 2018+
Cupra Formentor 2020+
SEAT Arona 2017+
Skoda Octavia IV NX 2020+
Skoda Octavia III 5E 2014-2020
Skoda Superb III 3V 2015+
Skoda Fabia IV 2021+
Skoda Fabia III NJ 2015+
Skoda Kamiq 2019+
Skoda Scala 2019+
The RacingLine group is based in Milton Keynes, UK. We are a leading partner of the Volkswagen Group and to many we are known for offering the Volkswagen Racing Motorsport program since 1997. It was out of this world and now sold all over the world.
Over the years we have managed the Volkswagen Motorsport Program, we have had the privilege of building any of the above vehicles, competing in the first levels of racing and rallying on behalf of the manufacturer worldwide . Throughout, we have been engaged in a program of constant motorsport technical development for our own racing and rally cars, as well as our customers around the world - with great success.
And it is this unparalleled experience with the Volkswagen group, both thanks to the "works" and to the relationship that we have with the equipment manufacturers that we have developed to drive and deliver. world. We believe we are bringing a different approach to the performance secondary market.
Meanwhile, with our ever-growing Performance Parts program, RacingLine motorsport RacingLine beats as hard as ever. In collaboration with Audi Sport, Volkswagen Motorsport and SEAT Sport, we organize and promote the FIA Formula 4 Championship in the UK, discovering the stars of single-seater racing of the future. And of course our own Audi R8 GT endurance racer is a project that keeps our passion at the forefront.
But the RacingLine group is not limited to the Performance Parts and Motorsport programs for which many know us.
Our in-house event company, RacingLine Events, is also a premier supplier to the Volkswagen Group, offering hundreds of corporate events for various automotive brands, ranging from international vehicle launches, to high performance driving events, to training of builders, conference and incentive work.
RacingLine Group is passionate about Volkswagen Group products (and, let's be honest, makes them go faster) with the guarantee of quality and accountability that comes from our close 20-year relationship with the manufacturer.
We hope you enjoy our site and thank you for choosing RacingLine .