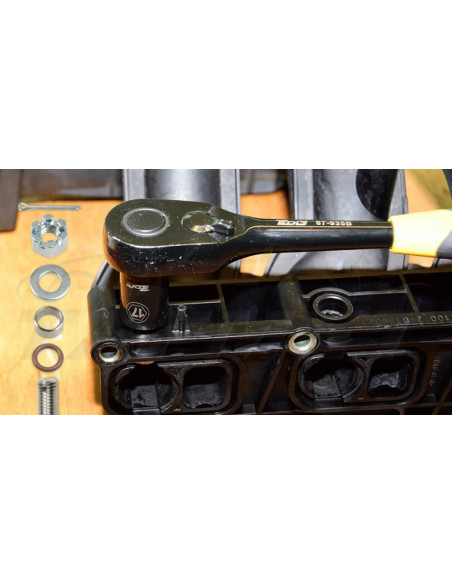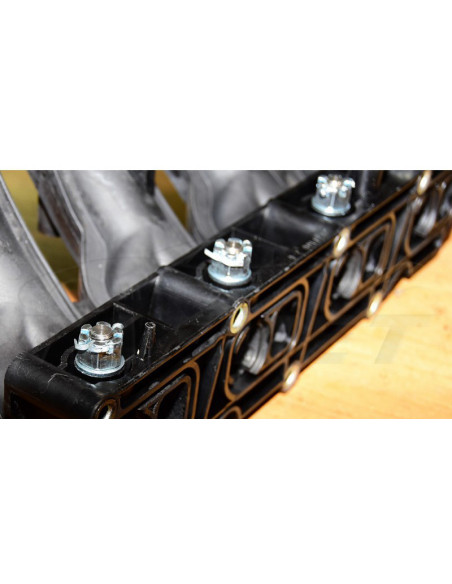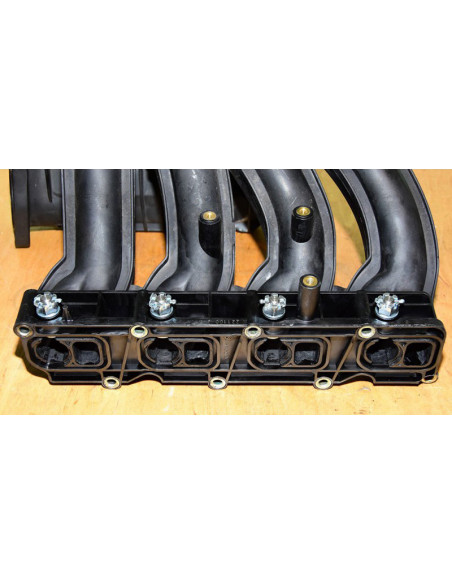 Removal kit RUNNER FLAP DELETE inlet flap flap for MERCEDES 2.2 CDI engine OM646 OM611
Here are our Kit of RUNNER FLAP DELETE and removal of intake valves for MERCEDES engine 2.2 CDI OM646 OM611
We are proud to offer you the first choice solution in terms of RUNNER FLAP DELETE Kit and custom intake flap removal for MERCEDES 2.2 CDI OM646 OM611 engine
BUT WHAT IS THE REMOVAL OF MANIFOLD FLAPS?
Also called "Runner flap delete" these parts simply remove the original flaps located in the ducts of your OEM intake manifold.
This motorsport-inspired Runner Flap Delete System (RFD) kit was designed to eliminate possible airflow restrictions in the stock intake manifolds.

These parts are intended for those looking to optimize and maximize the performance of their vehicle.
The stock flaps are actually individual plates, much like a simple butterfly flap, for example. They are located inside the air ducts of your intake manifold.

Unfortunately, even when they arrive at their maximum open position, the flaps still represent an air restriction and therefore a constraint in the path of the air volume.
After removing your original flaps, the FLAP Delete kit fills the voids in each duct. All these parts are made of aluminum and are CNC machined with laser cutting.
Ideal stage 2, this full-mass aluminum kit helps the passage of air and saves torque.
Suitable for:
MERCEDES engine 2.2 CDI OM646 OM611
Content of the pack:
4 x stainless steel chuck
4 x stainless steel sleeve
4 x galvanized steel castle nut
4 cotter pins in galvanized steel
4 x Viton O-rings, a material resistant to high temperatures, oil and grease
4 intake manifold gaskets from the German company Victor Reinz
Compatible with the following Audi Seat Skoda Volkswagen engine codes:
2.2 CDI (4 cylinder) engines with designations OM646 and OM611 installed in the following vehicles:
Mercedes-Benz C-Class (W203): C 200 CDI (203.204), 85kW/116CV, 09/2000-06/2003
Mercedes-Benz C-Class (W203): C 200 CDI (203.004), 75kW/102HP, 02/2001-06/2003
Mercedes-Benz C-Class (W203): C 200 CDI (203.007), 90kW/122HP, 04/2003-02/2007
Mercedes-Benz C-Class (W203): C 220 CDI (203.006), 105kW/143HP, 05/2000-02/2007
Mercedes-Benz C-Class (W203): C 220 CDI (203.006), 100kW/136CV, 05/2000-02/2007
Mercedes-Benz C-Class (W203): C 220 CDI (203.008), 110kW/150CV, 02/2003-02/2007
Mercedes-Benz C-Class T-Model (S203): C 200 CDI (203.204), 85kW/116HP, 03/2001-08/2007
Mercedes-Benz C-Class T-Model (S203): C 200 CDI (203.204), 75kW/102HP, 03/2001-08/2007
Mercedes-Benz C-Class T-Model (S203): C 200 CDI (203.207), 90kW/122HP, 04/2003-08/2007
Mercedes-Benz C-Class T-Model (S203): C 220 CDI (203.206), 105kW/143HP, 03/2001-08/2007
Mercedes-Benz C-Class T-Model (S203): C 220 CDI (203.208), 100kW/136HP, 08/2006-08/2007
Mercedes-Benz C-Class T-Model (S203): C 220 CDI (203.208), 110kW/150HP, 028.2004-08.2007
Mercedes-Benz CLK (C209): 220 CDI (209.308), 110kW/150hp, 01/2005-05/2009
Mercedes-Benz CLK (C209): 220 CDI (209.308), 100kW/136hp, 01/2005-05/2009
Mercedes-Benz E-Class (W210): E 200 CDI (210.007), 75kW/102HP, 06/1998-03/2002
Mercedes-Benz E-Class (W210): E 200 CDI (210.007), 85kW/116CV, 07/1999-03/2002
Mercedes-Benz E-Class (W210): E 220 CDI (210.006), 105kW/143CV, 07/1999-03/2002
Mercedes-Benz E-Class (W210): E 220 CDI (210.006), 100kW/136HP, 07/1999-03/2002
Mercedes-Benz E-Class Model T (S210): E 220 T CDI (210.206), 105kW/143HP, 07/1999-03/2003
Mercedes-Benz E-Class Model T (S210): E 220 T CDI (210.206), 100kW/136HP, 05/1999-03/2003
Mercedes-Benz E-Class (W211): E 200 CDI (211.004), 75kW/102HP, 07/2002-12/2008
Mercedes-Benz E-Class (W211): E 200 CDI (211.004), 90kW/122CV, 07/2002-12/2008
Mercedes-Benz E-Class (W211): E 220 CDI (211.006), 110kW/150HP, 03/2002-12/2008
Mercedes-Benz E-Class (W211): E 220 CDI (211.006), 100kW/136HP, 03/2002-12/2008
Mercedes-Benz E-Class T-Model (S211): E 220 CDI (211.206), 100kW/136HP, 03/2003-07/2009
Mercedes-Benz E-Class T-Model (S211): E 220 T CDI (211.206), 110kW/150HP, 03/2003-07/2009
Compatible Intake Manifold OEM Numbers:
A6110901337
A6110902337
A6110903637