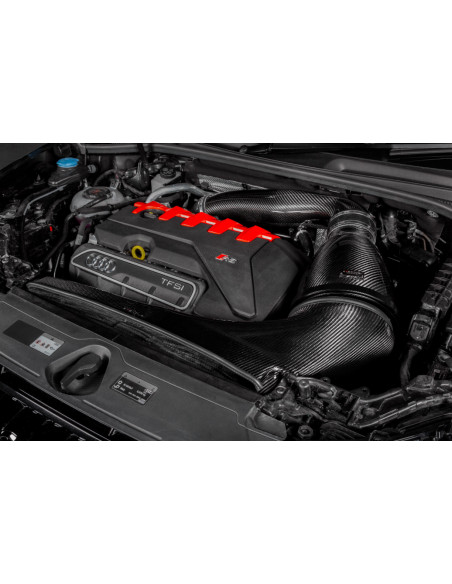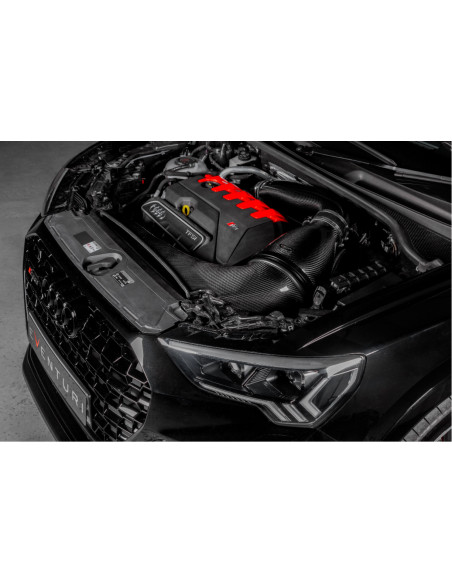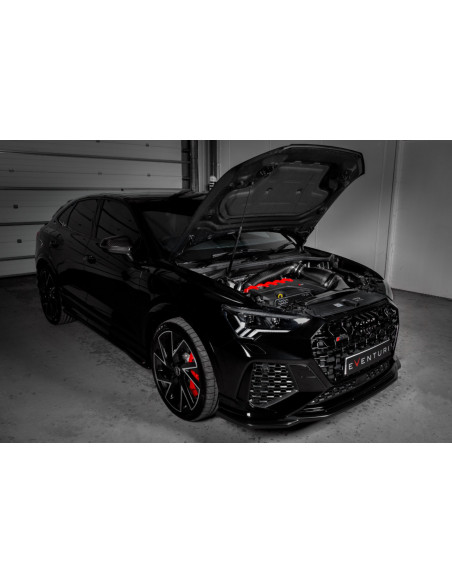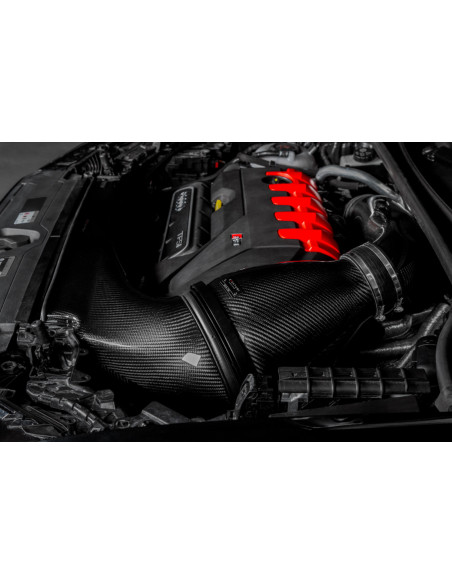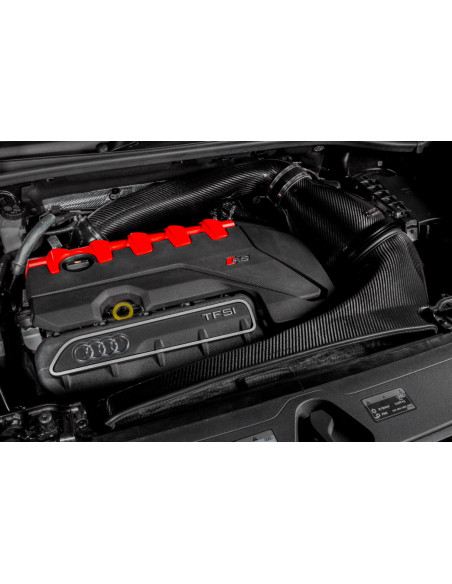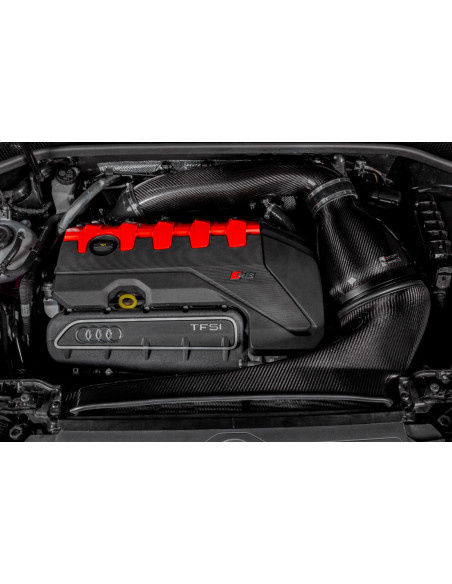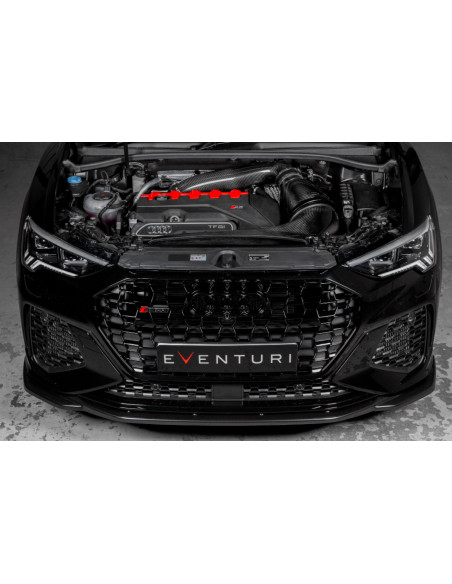 Eventuri Admission Kit for AUDI RSQ3 F3 2.5 TFSI from 2019
On production, within 2 to 4 weeks from your order.

STR Performance is official reseller of Eventuri carbon admissions for France, DOM TOM and Europe.

The Eventuri admission was developed after consultation and support of the owners of the vehicle of the same type as the title of the product sheet. We completely redesigned the air intake path from the ducts to the filters and intake manifolds. Airboxes and restrictive duct feeds have been replaced with a highly efficient system - fully sealed with smooth transitions to allow airflow to remain full and laminar. The resulting performance gains, sound, and aesthetics are the best in the industry for this platform.
The Eventuri difference
The Eventuri system uses our carbon fiber housings, they provide a highly efficient aerodynamic airflow path from the filters to the throttle bodies. Our kits are not just a cone filter with a heat shield but a unique design that invokes the Venturi effect.
Eventuri intake kits include the high flow filter(s), aluminum covers, v-clamp, laser cut brackets and the carbon pods themselves. Carbon pods wrap around the rear-mounted filter and gently shape the airflow to the intake manifolds. This smooth reduction in cross section is called the Venturi effect where the airflow accelerates while maintaining laminar conditions. This can be thought of as a wide range of velocity.
The ducts channel ambient air from the inlet vents to the filter housings. They fit inside the OEM tubing system and transition smoothly to the circular shape of the filter housing. In order to provide a good seal against engine bay heat, the ducts also have rubber edging around the openings which press against the filter housings, creating the desired seal while allowing the housings to move with the engine. These geometrically complex parts are a key part of our design for this platform.
Heat shields serve two purposes: to deflect heat away from exhaust manifolds and to provide a mounting surface for Eventuri Intake Kits. Laser cut from stainless steel, the shields provide a solid mounting point for securing intake kits. Additionally, by using reflective material on the opposite side, the shields effectively block radiant heat generated by the exhaust manifolds, reducing heat absorption on carbon components.
All the components that Eventuri has invented in the engine bay, are there to produce a real improvement in the driving experience and provide an incredible visual display of form and function in perfect harmony. To add the finishing touch to the engine bay we have also produced matching carbon/kevlar engine covers and slam panel covers.


ATTENTION an additional cost of 40 euros is to be expected on this product because of the fragility and the insurance taken for this product.
The advantages of this kit:
Plug&Play Direct mounting
Complete kit ready to install with instructions
Maximum gain measured 20hp (manufacturer data)
Large air boxes with large volume with venturi effect
Washable and reusable high performance filters
Air diffusers based on the standard scoop of your vehicle
High Flow Custom Intake Elbows
Very high quality glossy carbon or kevlar finish
Sealed and partitioned system
Instructions and mounting hardware included
Made in UK
This kit is compatible for:
AUDI RSQ3 F3 2.5 TFSI from 2019
Attention for DWNA engines this requires an additional adapter kit, please contact us before ordering.
CAN YOU FIND IT CHEAPER?

WE ALIGN

!
CAN YOU FIND CHEAPER ON A FRENCH WEBSITE? WELL WE ARE ALIGNING*! MORE INFORMATION below.
* If you find an Eventuri reference  new sold by a professional French website and which specializes in the sale of car parts to individuals, that you are a non-professional customer, contact us, we will match its price after verification.

Offer valid excluding sales and exceptional destocking. Only valid on references currently available on the official Eventuri website.
eVenturi was founded by a team of engineers and aeronautics and tuning enthusiasts - all of them sharing a passion for cars and performance. After holding several years of admission for our own cars and being disappointed with the earnings that rarely lived up to their claims, we decided to take matters into our own hands and rewrite the book. To set a new benchmark in intake design and technology, most importantly - to design systems that deliver real gains, then to release real numbers.
Our systems are extensively developed using state-of-the-art design, test and prototyping methods. With a focus on performance, each design undergoes CFD analysis and is then validated at the prototype stage through volumetric airflow, intake temperature, and extensive dynamometer testing. We strive to publish all development information to illustrate the depths to which we are going in bringing concept to reality.
Only the best materials are selected for each component - even down to the choice of fasteners and fasteners to ensure that the quality of the end product is second to none.
After many years of disappointment with typical aftermarket consumptions, we are proud to raise the bar and create intake systems that set a new standard and truly improve your vehicle's performance.
You might also like
Cleaning kit
EVENTURI
vgm03967
Here is our cleaning and oil maintenance kit specially designed for Eventuri air filters
Customers who bought this product also bought:
Here is our pack of 4 high flow injector noses in 0.280mm from DSSr for 1.9 TDI 90 110hp engine (volkswagen golf 3, golf 4)
Subscribe to our newsletter to receive our news

Livraison rapide
24 à 48 h
Si produit en stock


HOTLINE
EXPERT HOTLINE
à votre écoute

PAIEMENT Sécurisé
Monetico - CIC
Cofidis - Paypal