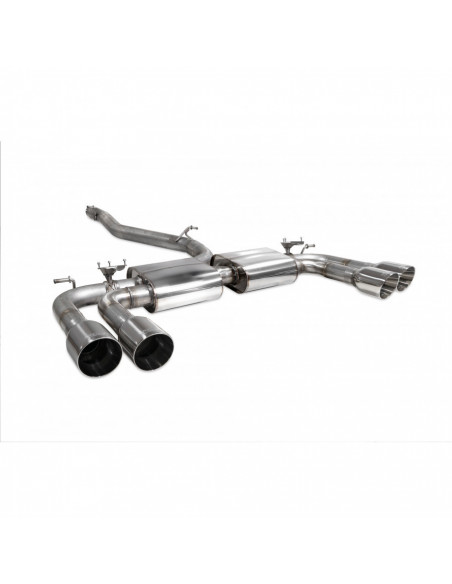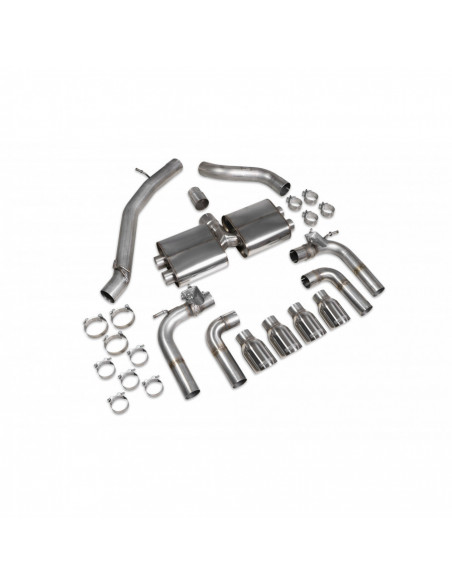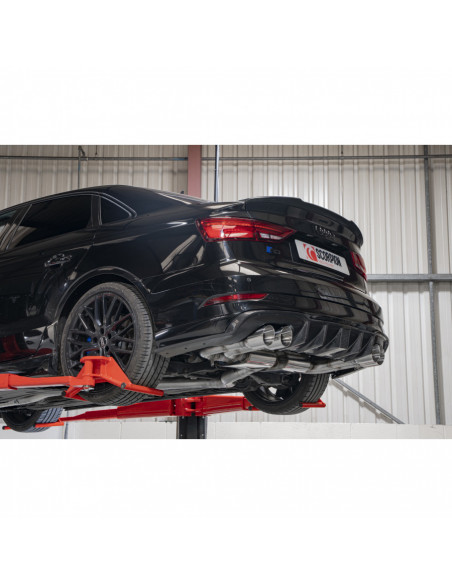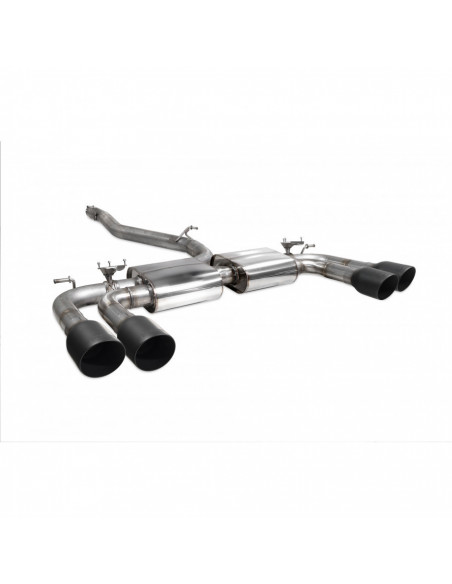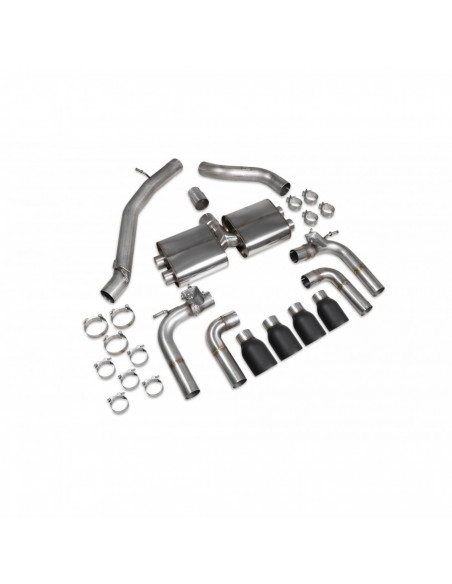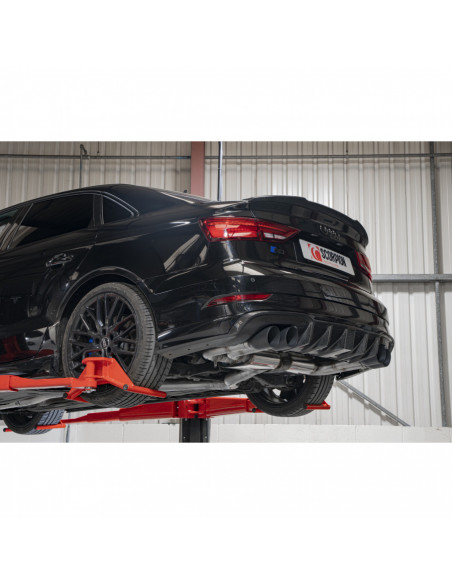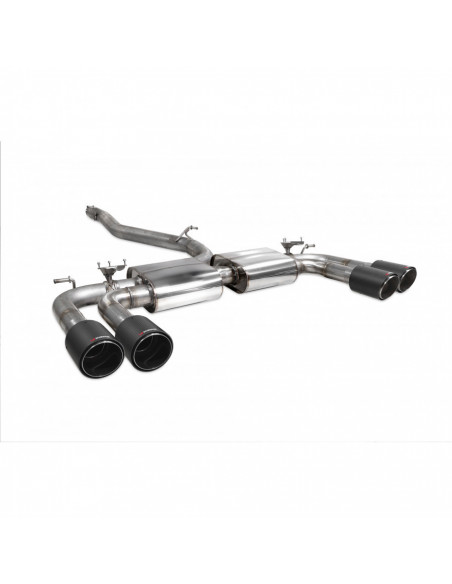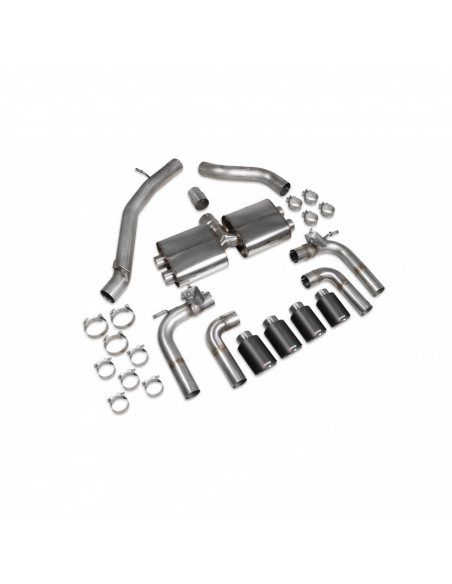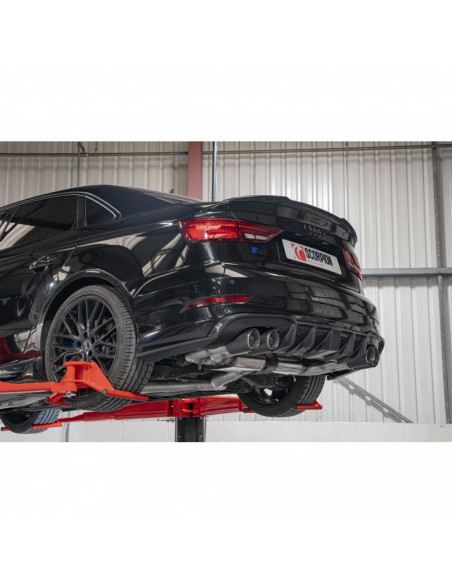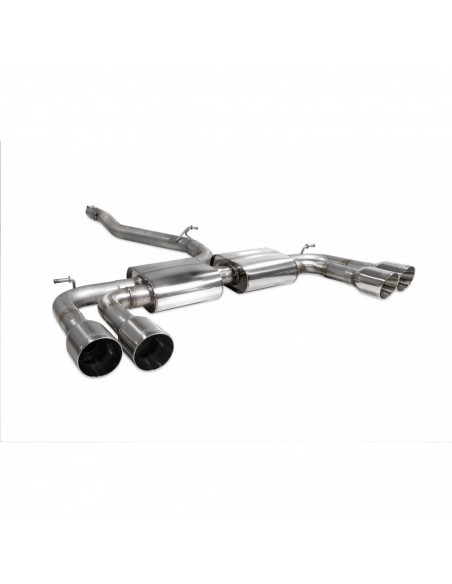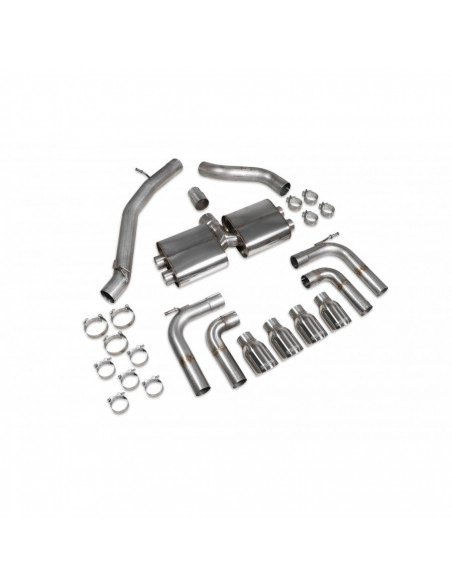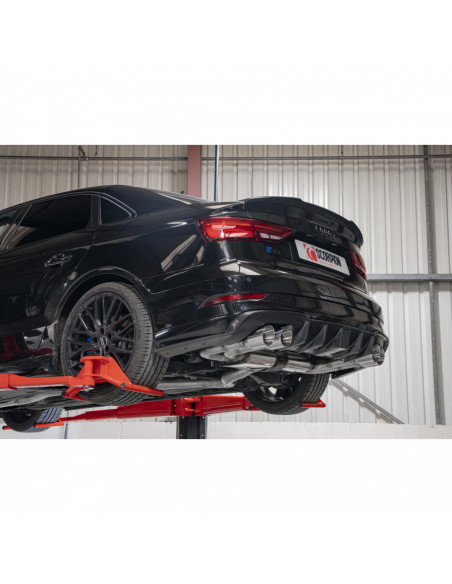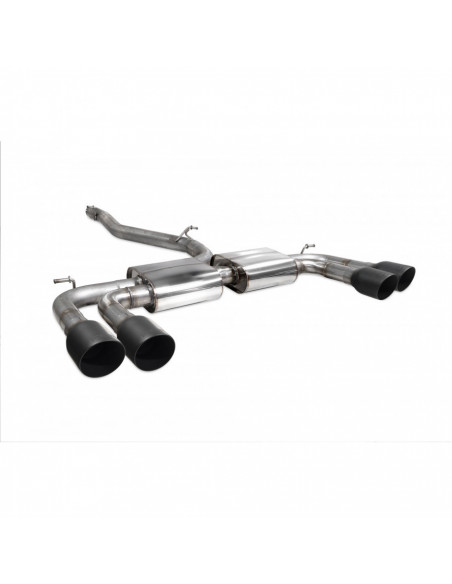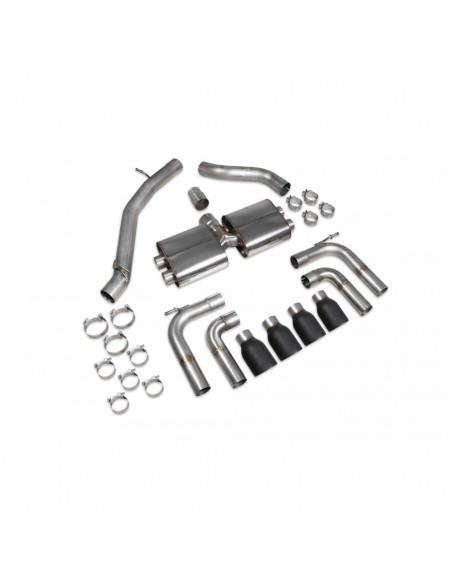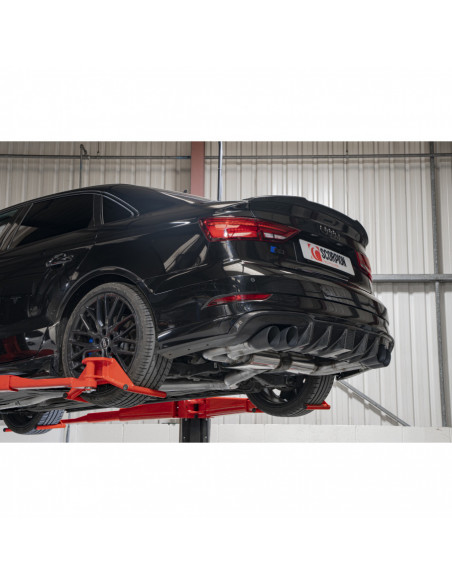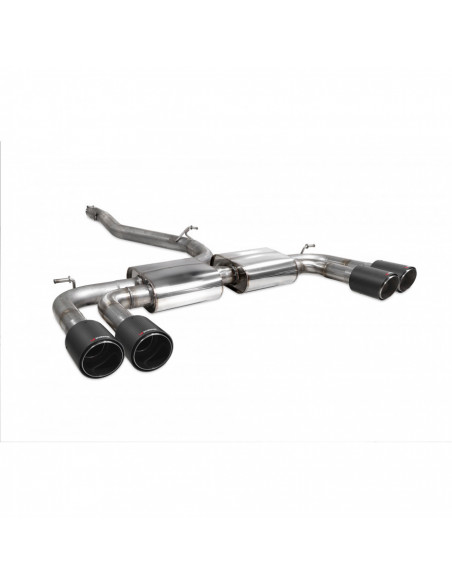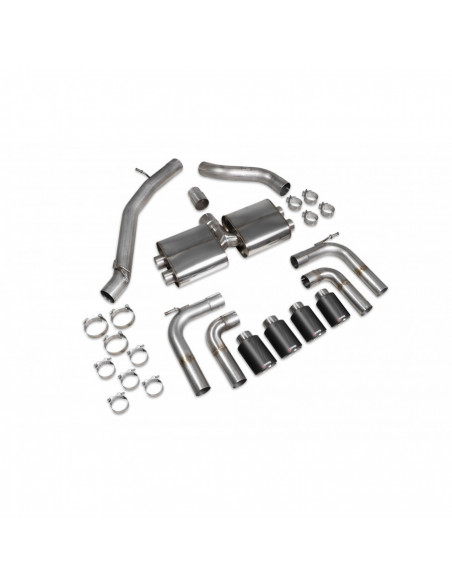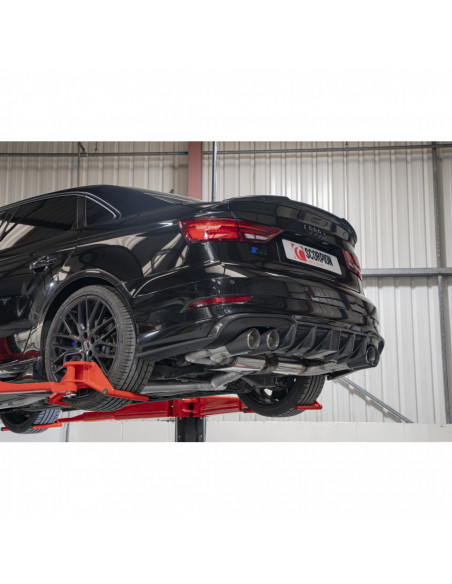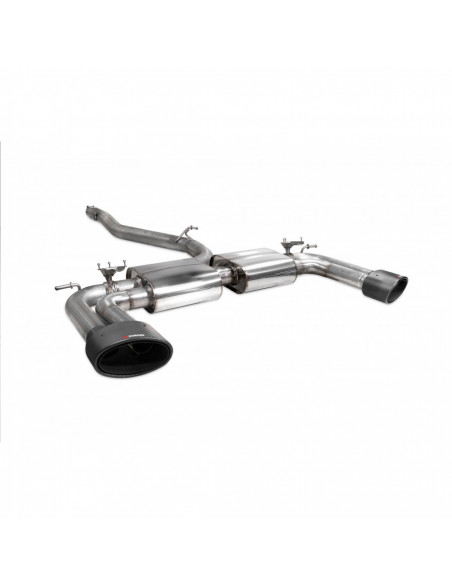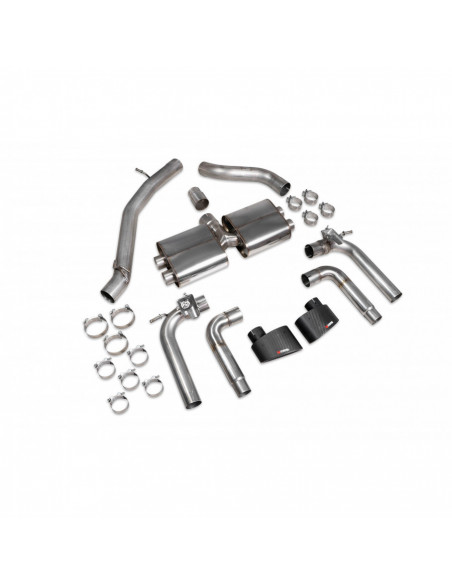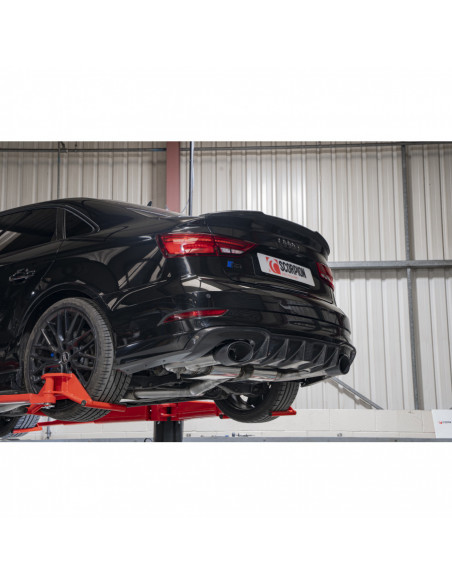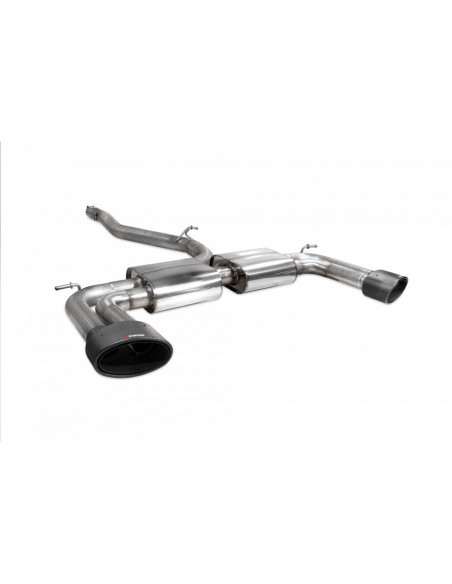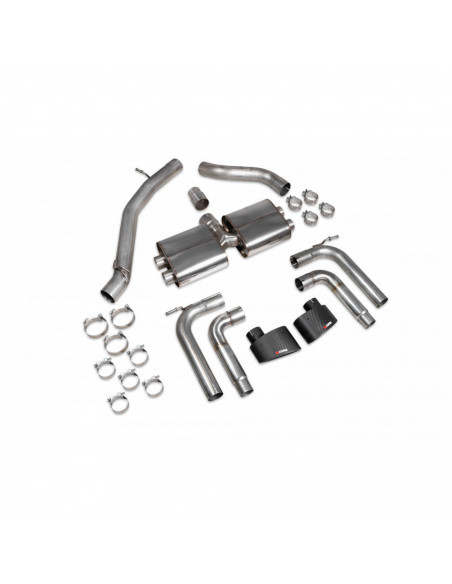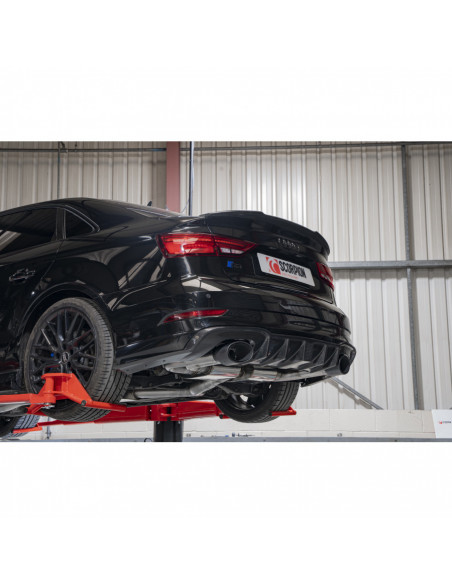 Half-Line Catback Scorpion Inox 80mm without intermediate silencer for Audi S3 8V2 Sedan With DPF 2.0 TSI
Available at home within 20 to 30 days
Here is our 80mm Stainless Steel Half-Line Catback without intermediate silencer from Scorpion Exhaust for Audi S3 8V2 Sedan With FAP 2.0 TSI

Here is our 80mm Stainless Steel Half-Line Catback without intermediate silencer from Scorpion Exhaust for Audi S3 8V2 Sedan With FAP 2.0 TSI

Here is a Product Description regarding the specifics:
- Full half exhaust line in 80mm
- Outlet diameter 101mm
- OEM and Scorpion line compatible
- OEM weight 34kg - Scorpion weight 24Kg
- Weight gain 7.44Kg
- Without intermediate silencer
- OEM exhaust tips
PLEASE NOTE: You will be able to choose the configuration of your choice via the tab above:
Version 1: With Valves / Ascari Evo Outlet: SAUS098CF
Version 2: With Valves / Daytona Output: SAUS096

Version 3: With Valves / Daytona Black Ceramic Output: SAUS096C

Version 4: With Valves / Ascari Outlet: SAUS096CF

Version 5: Without Valves / Daytona Output: SAUS097
Version 6: Without Valves / Daytona Black Ceramic Output: SAUS097C
Version 7: Without Valves / Ascari Outlet: SAUS097CF
Version 8: Without Valves / Ascari Evo Output: SAUS099CF
Scorpion Exhaust is a high-end manufacturer of stainless steel exhaust systems. Their extensive catalog includes several departments such as Lines or half-line / catback, sports catalysts, decatalysts, Downpipes, Manifolds... Their catalog includes more than 5000 very high quality product references.
The Scorpion manufacturer is renowned and recognized for the very high finish and quality of their "T304" stainless steel. Each exhaust line comes with a bundle of accessories necessary for assembly (collars, flanges) complete, each line is studied and developed at home, so they know exactly what to provide.
Made to order on some models
You should know that the exhausts from Scorpion Exhaust are products made only to order, therefore stocks are tight.

Demand is very strong on the SCORPION catalog, so they have to design and manufacture the lines almost exclusively on demand.

It sometimes also happens that certain parts are even used for one or more escapements, and out of the number of parts that can make up a line, only small parts or elements are sometimes missing.
All the information on the composition of the exhaust lines on our explanatory sheet here: How to choose your exhaust?
FIND IT CHEAPER? WE ALIGN!
HAVE YOU FOUND CHEAPER ON A FRENCH WEBSITE? WELL WE ARE ALIGNING*! MORE INFORMATION BELOW
* If you have found a new Scorpion manufacturer's reference sold by a professional French website (domiciled in France), specializing in the sale of car parts to individuals and you are a non-professional customer, contact us, we are in line on its price. Offer valid excluding sales and exceptional destocking, valid on annual promotions. only on current references available on the Scorpion website https://www.scorpion-exhausts.com/
This Offer reserved for individual customers.
Important note: A price increase of around €80 excluding tax is included on the price of bulky or heavy products (example line for AUDI RS6 V10, BMW M3 M5, etc.). This increase in handling costs does not fall within the framework of the promotional operations of "shipping included". these are additional overloads and handling carried out by the manufacturer due to the large size or excessive weight of large parts. You can simulate this increase directly from the basket. More information on request.
Scorpion has won motorsport championships for over 20 years, consistently beating teams that are very publicly backed by rival exhaust manufacturers who build entire marketing campaigns around their racing involvement.
Those who follow motorsport may have seen our support team witnessing a huge range of two and four wheel series - without even knowing it.
Often in sponsor team gear, the technicians at the Scorpion Factory focus solely on racing and our involvement has always been strictly for development - not for promotional purposes.
The same discretion has been applied in supplying OE systems to some of the world's largest supercar manufacturers who have chosen Scorpion exhausts to put their name.


As Scorpio enters a new era, the intention is to take a higher profile with our motorsport program, especially the production-based series that provide us with the most relevant development environment to enable a true technology transfer from the track to the road.
In particular, we intend to capitalize on the successes achieved in BTCC, Porsche Cup, VW Racing Cup, World Endurance, Time Attack and Superbike;
plus off-road sport including Rally, MX and Supermoto.
Subscribe to our newsletter to receive our news

Livraison rapide
24 à 48 h
Si produit en stock


HOTLINE
EXPERT HOTLINE
à votre écoute

PAIEMENT Sécurisé
Monetico - CIC
Cofidis - Paypal