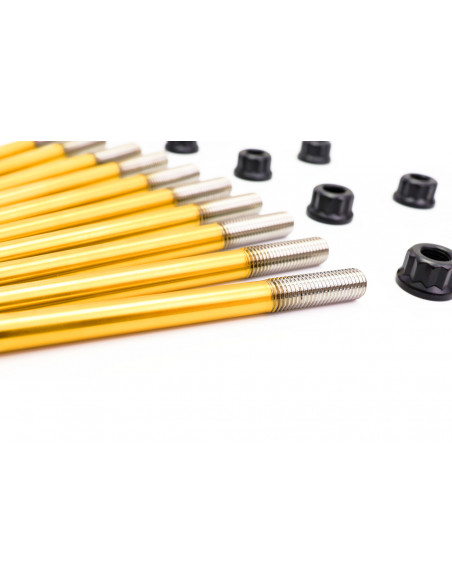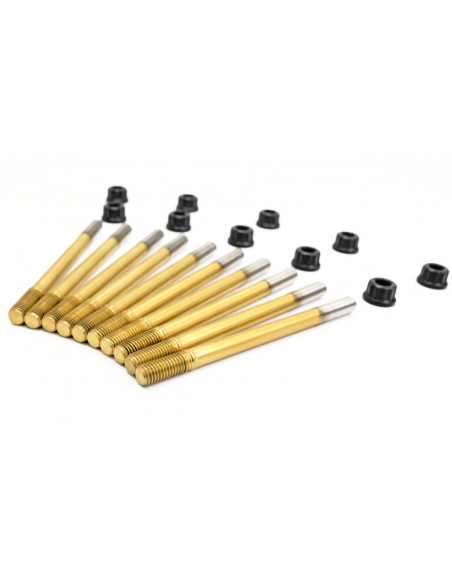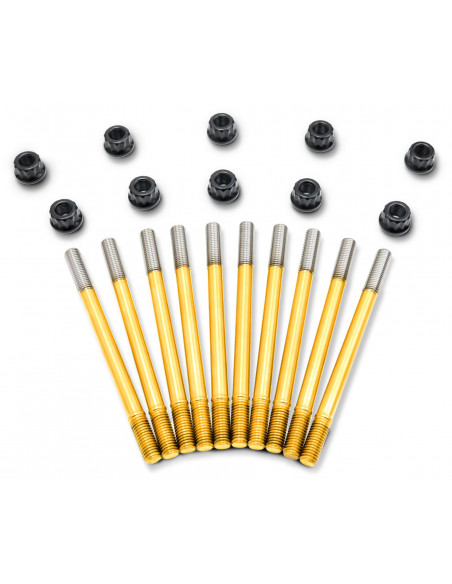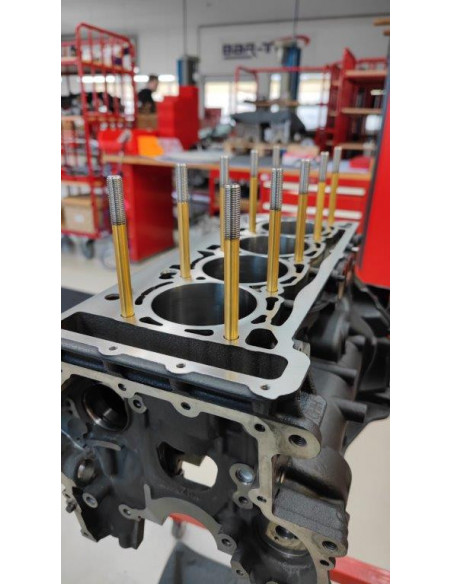 Reinforced Cylinder Head Studs Kit GOLD Series 1900Nm for VW Audi 2.0 TFSI EA113 EA888 2.5 TFSI EA885
Here is our GOLD Series 1900Nm Reinforced Cylinder Head Stud Kit for 2.0 TFSI EA113 EA888 Gen 2 and 3 engine as well as the 5 cylinder 2.5 TFSI EA885 340hp 367hp and 400hp engine
With our further experience, we were able to increase the tensile strength again and now reach something above 1900 N/mm². If you want to have the strongest bolts for your engine, you are right here. Stronger is not possible!
A MUST for all engines that run with high boost pressure and have trouble with loose ARP screws!
Due to a cone on the block side of the screws, these do not rest when tightening the nuts on the flanks of the thread, but in the bore of the thread of the engine block. This bracket protects the threads during frequent mounting of racing engines.
Made from ultra pure 18.8 tool steel
All wires are rolled for maximum strength
with shoulder cone for preloading for optimum distribution of forces on all threads
Tensile strength greater than 1,900 N/mm² (275,000 psi)
Nickel coating for excellent corrosion protection
reusable
Made in Germany
Tightening torque in three passes. Top floor 110 Nm.
included packet of Moly Paste grease
These screws are compatible for:
2.0 TFSI EA113 engine - Golf 5 GTI / Golf 6 R / Audi TT 8J
2.0 TFSI EA888 Gen 2 and Ea888 Gen3 engine - Golf 6 GTI / Golf 7 GTI / Golf 7 R
2.5 TFSI EA885 engine - TTRS RS3 8p 340hp / RS3 8v1 367hp / TTRS 8S and RS3 8v2 400hp
Please make your choice from the menu above.