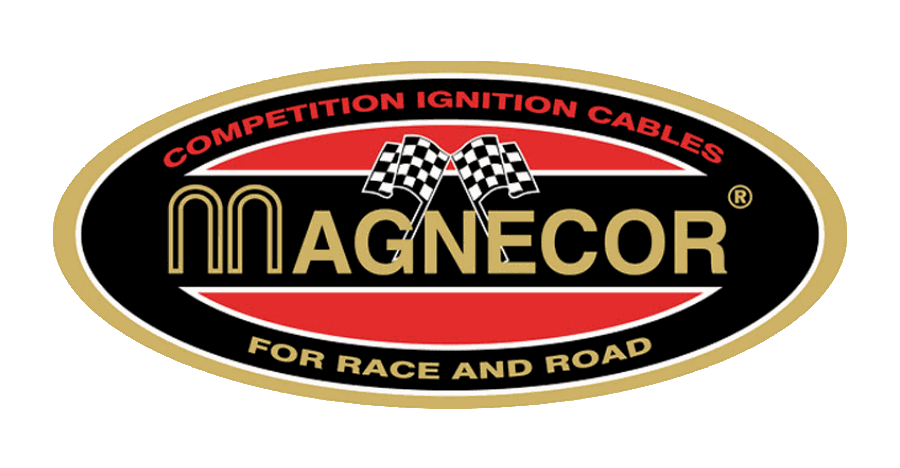 MAGNECOR reinforced spark plug wires for BMW 2002 TI (M10) from 1970 to 1975
Find our kit of reinforced spark plug MAGNECOR from MAGNECOR for BMW 2002 TI (M10) from 1970 to 1975
Customer ratings and reviews

Why should I choose Magnecor ignition wires?


Magnecor RACE ignition cables: The Magnecor KV85 Competition (8.5mm) and Magnecor R-100 Racing (10mm) ignition cables are primarily designed for modern racing vehicle engines and modified production vehicles that use computerized engine management systems and high efficiency ignition systems.
Magnecor's exclusive metal induction high capacitance 2.5mm conductors (cost 4 times more to manufacture than stock conductors or generic ignition wire conductors) will maintain full spark energy conductance indefinitely without sending EMI or RFI.
For heat protection, Magnecor Race Wires ignition cables have full aerospace silicone rubber insulating sheaths (which cost 2-3 times more than the generic multi-layered sheaths used on all other ignition cables) that resist better in heat than all other ignition cables.

Production emission-controlled vehicles will also benefit from the improved ignition performance and permanent electromagnetic interference suppression provided by Magnecor Race Wires. Best of all, Magnecor manufactures wire sets for nearly any engine ever built, as well as custom assemblies or individual conductors to meet customer needs.Secondary Carbon Conductor Suppression Ignition Cables and Coil Cables European and Japanese provide adequate EMI and RFI suppression during the limited life of this type of ignition wire. However, none of these wires are designed for use with high efficiency ignition systems and will prematurely fail at the driver's ends if used on a racing engine or an engine used in a road vehicle when the system original ignition has been replaced by a high efficiency ignition system.
The spiral-conductor ignition cables that most performance parts distributors include in their product lines sold at specialty stores and big box stores in the United States will perform satisfactorily with a carburetor stroke or engine. modified route. interfere with the electronic ignition and fuel management system of a modern engine, or with any other on-board electronic device.

Most "low resistance" and "super" conductor wires, etc. are nothing more than inexpensive, inexpensively constructed, generic spiral conductor wires containing conductors that will not (despite claims) provide adequate EMI or RFI.
More expensive versions are dressed in colorful sleeves designed to protect the lower guards against the heat of a racing engine. The electromagnetic interference emitted by these ignition cables can interfere with the operation of computer-managed electronic ignition and fuel systems, which in turn will reduce engine efficiency. Some of these wires have been designed to resemble Magnecor Race wires in color and wire diameter.
However, the conductors and insulating sheaths used are totally different.

Magnecor's conventional high performance 7mm and 8mm ignition cables will provide conductance, RFI suppression and thermal resistance similar to the best wired our performance parts have to offer and superior to any others.
However, unlike our competitor's performance ignition cable lines, all of which only cover a very limited number of popular unmodified and modified engines, Magnecor's 7mm and 8mm high performance ignition cable line includes plug-and-play cable sets for almost any engine as well as popular modified engine assemblies and custom assemblies or individual conductors to meet customer needs (and at very competitive prices).
These wire sets have always been popular for use on older vehicles and restorations that do not require complete EMI suppression.

MAGNECOR ignition harnesses and spark plug wires are distinguished in 3 sizes and by color, namely:
7mm = Black
8mm = Blue
8.5mm = Red
If you do not see any other color than the one displayed in the photo (s), it is because MAGNECOR does not manufacture them.
These reinforced spark plug wires are compatible for:
BMW 2002 TI (M10) from 1970 to 1975
CAUTION: MAGNECOR ignition wires are made only to order, the time may vary from 7 to 14 days at home.
Magnecor Europe Limited has its own production site in the UK and is the sole supplier to our dealers / distributors in UK and Europe.
Our commitment to quality and our attention to detail have enabled the brand to achieve great recognition in the sector. This has led to countless praise and thousands of happy customers.
We assemble our own treasure hunts in-house. Therefore, we can pay special attention to details for our domestic markets, as well as personalized service with technical support.
This personalized service also applies to the many bespoke / bespoke sets we manufacture for the racing, racing and road markets.
Whatever the application - motorsport, performance, family driving, marine or aviation, your engine performance will always benefit from a set of Magnecor ignition cables.
Magnecor's corporate headquarters are located in Farmington Hills, Michigan, United States.