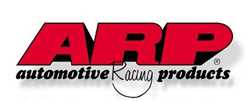 ARP 2000 reinforced connecting rods screws kit for Audi R8 V8 4.2 FSI from 2007 to 2018
Pack of reinforced ARP 2000 connecting rods bolts for Audi R8 V8 4.2 FSI from 2007 to 2018
ARP Brand Reinforced Connecting Rod connecting rods Kit
Standard connecting rods bolts
For Audi R8 V8 4.2 FSI from 2007 to 2018
Material, Version: ARP 2000 PRO Series
The best compromise for an engine repair or advanced preparation
Highly superior resistance to OEM


Here is our Pack of reinforced ARP 2000 connecting rods screws for Audi R8 V8 4.2 FSI from 2007 to 2018
ARP Brand Reinforced Connecting Rod connecting rods Kit
Standard connecting rods bolts
For Audi R8 V8 4.2 FSI from 2007 to 2018
Material, Version: ARP 2000 PRO Series
The best compromise for an engine repair or advanced preparation
Highly superior resistance to OEM
Different materials and processes are used by ARP to manufacture their products depending on the intended applications. Here is a recap:


ARP 8740 (Chromoly) : This is the material with the unbeatable quality/price ratio. To date, it offers excellent results and performance for most so-called "racing" applications. Thanks to its various surface treatments and heat treatments used by ARP during the design and manufacture, this material is at a resistance of around 200,000 psi.
ARP 2000 : This high-performance steel alloy has been specially designed to offer you increased resistance compared to the famous 8740. It can withstand pressure peaks of up to 220,000 psi. The ARP 2000 is often used for engines being in very intensive disciplines such as circuit or drag racing or drifting.
L19 : This so-called "premium" steel has undergone successive treatments which gives it a much higher resistance than ARP 2000 (260,000 psi). L19 steel solutions are often installed in very extreme applications on circuits and in dragsters and on very high performance engines. However, like the ARP 2000 and the 8740, the L19 is particularly sensitive to corrosion and therefore requires somewhat special precautions for use.
Custom Age : This new alloy, designed by ARP , has extraordinary strength properties (up to 280,000 psi tensile strength). The Custome Age series is Completely Stainless, this alloy is exclusive and unique to ARP . To date, it is THE best solution offered and existing on the market.
STR Performance distributes the ARP brand, if you are looking for a particular reference or if you cannot find what you are looking for, do not hesitate to contact our sales department via the Contact page of the site.


Example of compatible vehicle:
Audi R8 V8 4.2 FSI from 2007 to 2018
ARP tightening instruction click HERE
History and history of ARP ®
They say that in order to be successful you have to identify a need and meet it. In 1968, Gary Holzapfel, an avid racing enthusiast, found that several of his friends' broken engines were due to failure of the fasteners and especially the bolts .
Back then, there weren't any commercially available studs and bolts to meet the challenge. Holzapfel therefore drew on his many years of experience in manufacturing fasteners for a leading aerospace supplier and founded ARP (Automotive Racing Products).
In the years that followed, the company grew from a garage workshop to a highly diversified business to five operating units in Southern California with a total area of over 200,000m². These include forging, machining, finishing and packaging / warehousing facilities in Santa Paula and Ventura, California.
There's even a unique grocery-themed restaurant at the main Santa Paula establishment - called "Hozy's Grill" - that's open to the public.
Today, the ARP product line contains thousands of part numbers and has expanded to include virtually every fastener found in an engine and drivetrain. These range from high performance OEM aftermarket parts to exotic specialty hardware stores for drag racing and marine applications in Formula 1, IndyCar, NASCAR and NHRA.