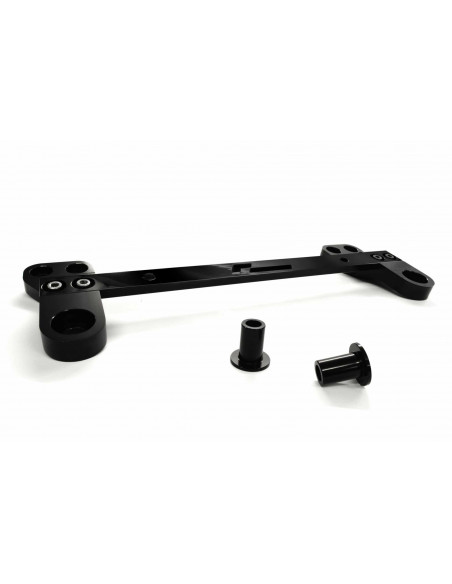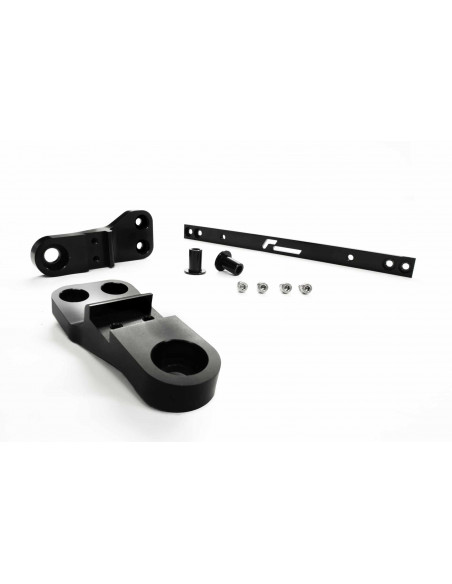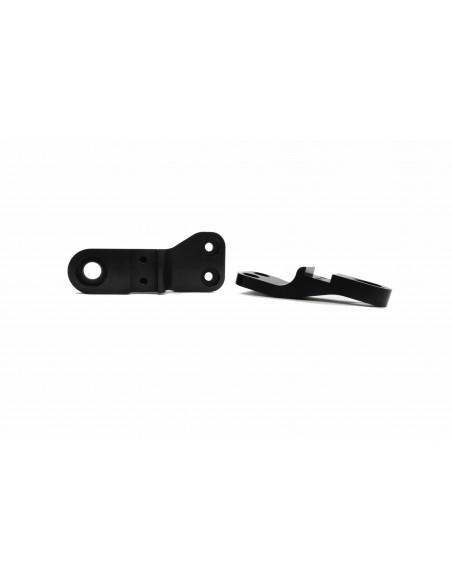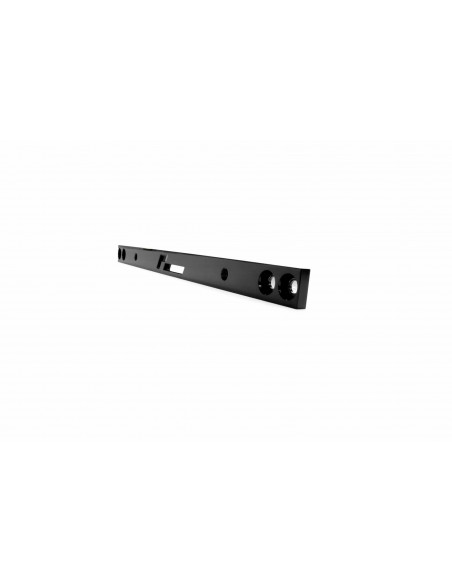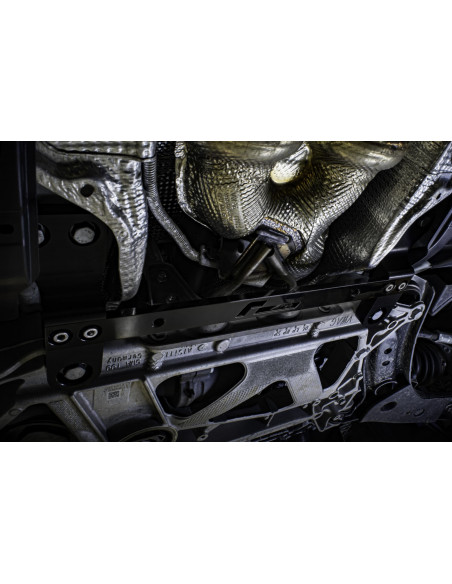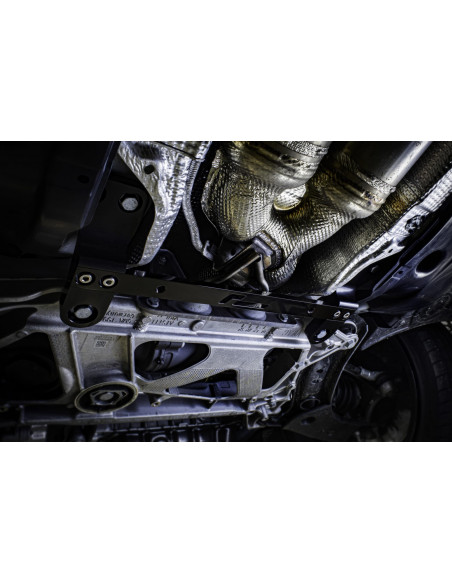 Racingline lower FRONT chassis reinforcement bar Audi A3 S3 8V 8Y TTRS RS3 Leon 3 Cupra Golf 7 8 GTI R Octavia VRS
Take advantage of our FRONT central chassis reinforcement bar from RacingLine for Audi S3 8V 8Y Leon 3 Cupra Golf 7 8 GTI - R Octavia VRS 2 and 4 wheel drive

Product details:
Here is our central FRONT strut bar from RacingLine for your SEAT Leon 3 Cupra / Golf 7 GTI and Golf 8 GTI / A3 8V 8Y / TT 8S / Octavia VRS 2 and 4 wheel drive MQB
This rear reinforcement bar from RacingLine will allow you to stiffen the chassis of your vehicle and modify the behavior of your vehicle.
Despite its stiffness, this handling performance does not compromise ride quality.
Simple and quick installation, it uses the existing body mounting points, so without any drilling it is therefore completely reversible.
After lowering a car to improve its handling, it is necessary to install a strut bar which will stiffen the body. You will find a wide range of strut bars in our category, available on many models.
Only for 4WD AWD
Features :
Color available: Carbon

carbon fiber tube

Quick and easy assembly

can footprint

Assembly instructions included

Made in UK
Compatible with :
VW Golf 8 GTI 2020+
VW Golf 8 GTI Clubsport 2020+
VW Golf 8 R 2020+
VW Golf 7 & 7.5 GTI & Clubsport 2013-2020
VW Golf 7 & 7.5 R 2013-2020
VW Golf 7 & 7.5 2013-2020
VW Passat 2.0 TSI B8 2015+
VW Arteon 2.0 TSI 2017+
VW T-Roc R 2.0 TSI 2019+
VW Tiguan II 2.0 TSI 2016+
VW Jetta VII GLI 2018+
Audi S3 8Y 2020+
Audi A3 8Y 2020+
Audi S3 8V 2013-2020
Audi A3 8V 2013-2020
Audi RS3 2.5 TSI 8V evo 2017-2020
Audi TT 3 2.0 TSI 8S 2014+
Audi TTS 3 2.0 TSI 8S 2015+
Audi TTRS 3 2.5 TFSI 8S 2017+
Audi SQ2 2018+
Audi RSQ3 F3 2019+
Cupra Leon IV FW 2020+
SEAT Leon IV FW 2020+
SEAT Leon III Cupra 5F 2014-2020
SEAT Leon III 5F 2015-2020
Cupra Ateca 2018+
Cupra Formentor 2020+
SEAT Tarraco 2.0 TSI 2018+
Skoda Octavia IV vRS NX 2020+
Skoda Octavia IV NX 2020+
Skoda Octavia III vRS 5E 2014-2020
CAN YOU FIND IT CHEAPER? WE ALIGN !
CAN YOU FIND CHEAPER ON A FRENCH WEBSITE? WELL WE ARE ALIGNING*! MORE INFORMATION below.
* If you find a new RacingLine reference sold by a professional French website and which specializes in the sale of car parts to individuals, if you are a non-professional customer, contact us, we will match its price after verification.

Offer valid excluding sales and exceptional destocking. Only valid on references currently available on the official Racingline website.
The RacingLine group is based in Milton Keynes, UK. We are a leading partner of the Volkswagen Group and to many we are known for offering the Volkswagen Racing Motorsport program since 1997. It was out of this world and now sold all over the world.
Over the years we have managed the Volkswagen Motorsport Program, we have had the privilege of building any of the above vehicles, competing in the first levels of racing and rallying on behalf of the manufacturer worldwide . Throughout, we have been engaged in a program of constant motorsport technical development for our own racing and rally cars, as well as our customers around the world - with great success.
And it is this unparalleled experience with the Volkswagen group, both thanks to the "works" and to the relationship that we have with the equipment manufacturers that we have developed to drive and deliver. world. We believe we are bringing a different approach to the performance secondary market.
Meanwhile, with our ever-growing Performance Parts program, RacingLine motorsport RacingLine beats as hard as ever. In collaboration with Audi Sport, Volkswagen Motorsport and SEAT Sport, we organize and promote the FIA Formula 4 Championship in the UK, discovering the stars of single-seater racing of the future. And of course our own Audi R8 GT endurance racer is a project that keeps our passion at the forefront.
But the RacingLine group is not limited to the Performance Parts and Motorsport programs for which many know us.
Our in-house event company, RacingLine Events, is also a premier supplier to the Volkswagen Group, offering hundreds of corporate events for various automotive brands, ranging from international vehicle launches, to high performance driving events, to training of builders, conference and incentive work.
RacingLine Group is passionate about Volkswagen Group products (and, let's be honest, makes them go faster) with the guarantee of quality and accountability that comes from our close 20-year relationship with the manufacturer.
We hope you enjoy our site and thank you for choosing RacingLine .
Subscribe to our newsletter to receive our news

Livraison rapide
24 à 48 h
Si produit en stock


HOTLINE
EXPERT HOTLINE
à votre écoute

PAIEMENT Sécurisé
Monetico - CIC
Cofidis - Paypal