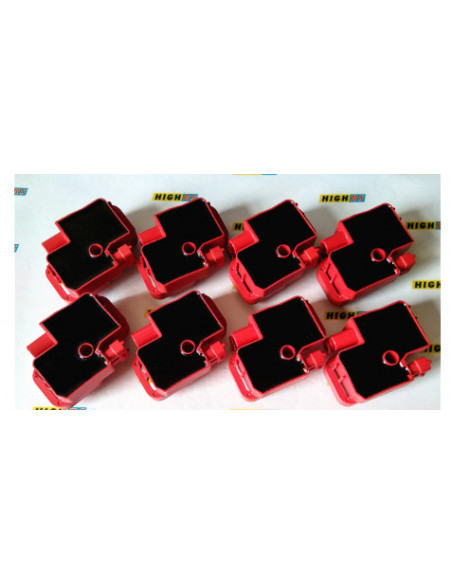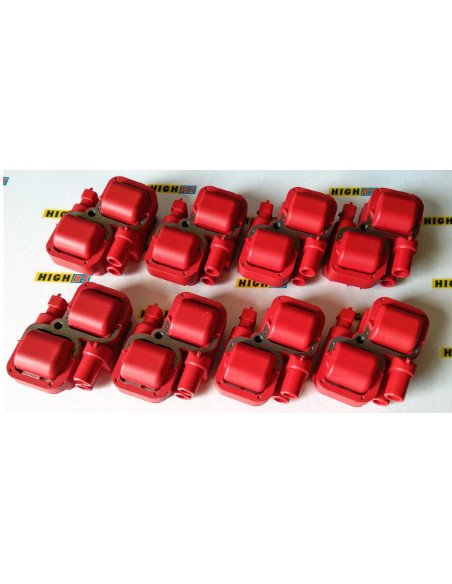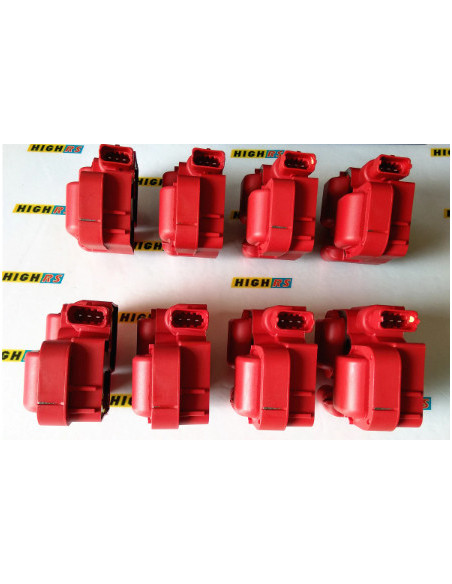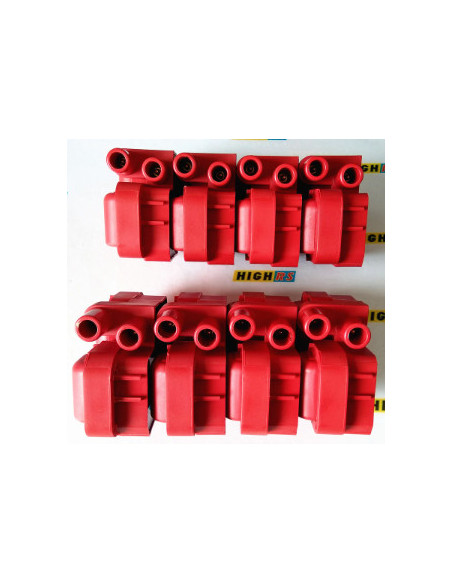 Pack of 8 Reinforced Ignition Coils for Mercedes C43 AMG C55 CLK430 CLK500 CLK55 CLS500 CLS55 E500 E55 5.0
Here is our kit of 8 Reinforced Ignition Coils from
HP Ignition
for Mercedes C43 AMG V8 C55 5.5L CLK430 CLK430 CLK500 CLK55 CLS500 CLS55 E430 E500 E55 5.0L

Here is our Pack of 8 Reinforced Ignition Coils from HP Ignition for Mercedes C43 AMG V8 C55 5.5L CLK430 CLK500 CLK55 CLS500 CLS55 E500 E55 5.0
Explanations of the principle of Reinforced Ignition Coils
Heavy-duty heavy-duty ignition coils are ignition coils that consist of a built-in high-efficiency power amplifier.

They can produce 4 times more ignition energy than standard coils and therefore quickly generate a discharge of multiple sparks, up to 10 times more towards the high rpm ranges.
The ignition intensity is increased by 100%, allowing the spark to reach many more molecules and therefore speeding up the ignition and combustion process. This is extremely important in forced induction applications but thus improves the performance of naturally aspirated engines.

Gain in power, reduction in consumption and very strong resistance over time. Indispensable for large preparations but also for original engines.
Specially designed for advanced engine preparations and operating at very high speeds as well as at high temperatures, the reinforced ignition coils will bring you a guarantee of reliability and superior quality at the origin.

Installing heavy-duty ignition coils will solve a vast majority of common ignition problems such as misfiring, chattering and hesitant engine behavior.

In addition, the reinforced ignition coils also provide a power and torque gain of around 3 to 4%, thanks to their very high voltage and stability, they will be able to provide your engine with a very powerful spark even up to in very high rev ranges.
Ignition coils are sold as a complete pack, so as to equip your vehicle. It is recommended to change all the coils for perfect ignition homogeneity.

Features :
Pack of 8 reinforced ignition coils
Compatible for: Mercedes C43 AMG V8 C55 5.5L CLK430 CLK500 CLK55 CLS500 CLS55 E500 E55 5.0
Gain in power, reduction in consumption and very high resistance over time
built-in high efficiency
Power and torque gain of 3 to 4%
Plug&Play assembly
STR Performance is a distributor of HP Ignition products , if you are looking for a part from HP Ignition that we do not have on our site, do not hesitate to contact us via our Contact page, so that we can give you a price and a time limit.  
CAN YOU FIND IT CHEAPER?

WE ALIGN

!
CAN YOU FIND CHEAPER ON A FRENCH WEBSITE? WELL WE ARE ALIGNING*! MORE INFORMATION below.
* If you find an HP Ignition part number  new sold by a professional French website and which specializes in the sale of car parts to individuals, that you are a non-professional customer, contact us, we will match its price after verification.

Offer valid excluding sales and exceptional destocking. Only valid on references currently available on the official HP Ignition website .