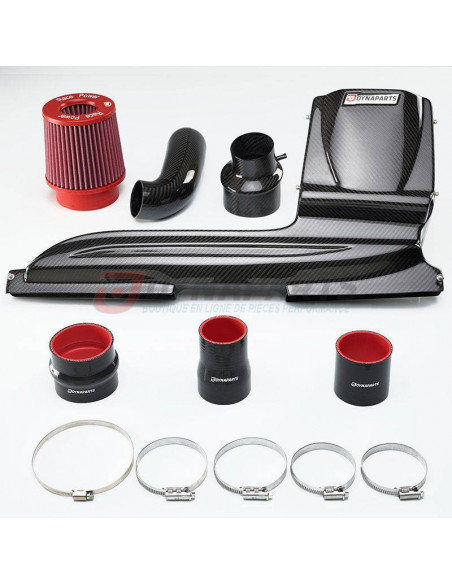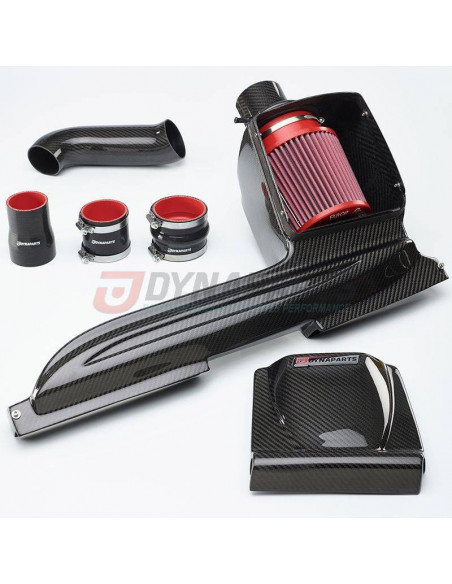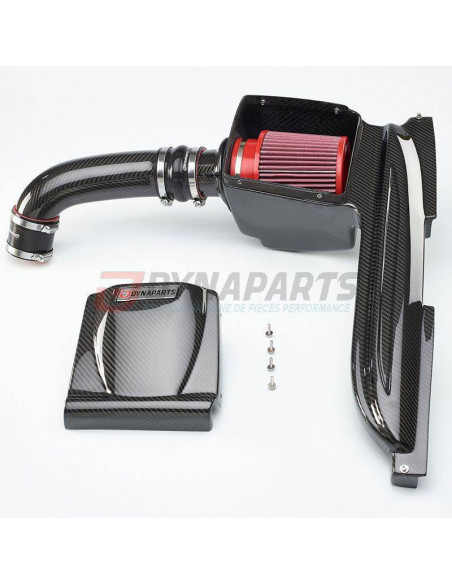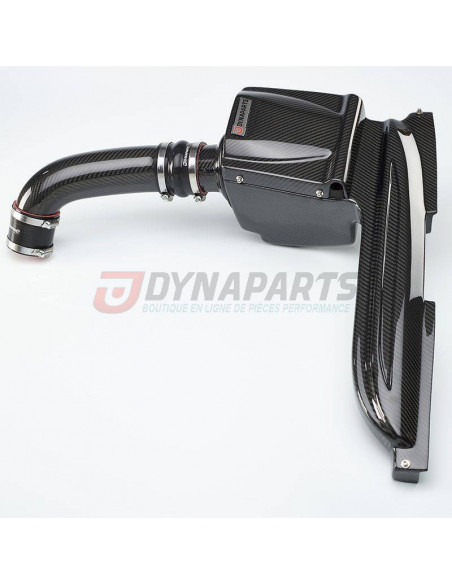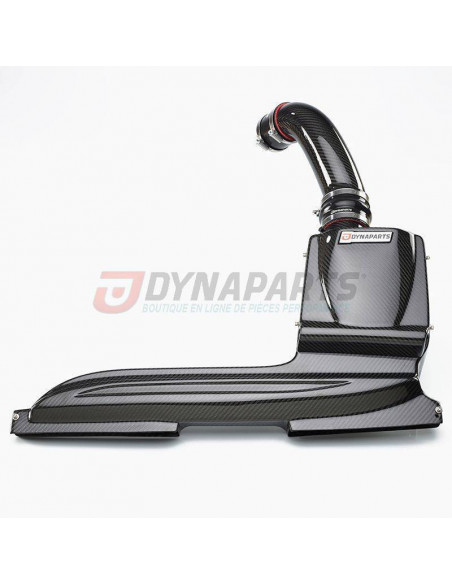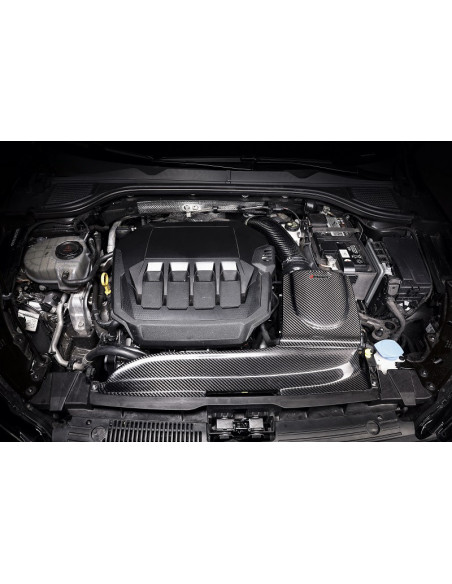 Direct FULL Admission Kit for Volkswagen Golf 7 8 GTI R / S3 8V 8Y 2.0 TSI EA888 Gen3 Gen4
Here is our FULL CARBON Direct Admission Kit from DYNAPARTS for Volkswagen Golf 7 and 8 GTI R and Audi S3 8V 8Y 2.0 TSI EA888 Gen3 Gen4
Significant power and increased sound!
The DYNAPARTS Cold Air Intake Kit delivers cool, cold air from outside the engine bay directly to your engine via a high-flow, free-flowing intake tube.
The RacingLine Cold Air Intake System replaces the standard factory intake with a complete, high output, high flow intake system.

Developed for use in our cars, the DYNAPARTS system delivers truly impressive airflow gains, up to 9% higher in peak horsepower than the stock intake system.
By reducing the turbo speed down to 500 rpm in some cases thanks to the increased efficiency of the system, a super-fast turbo response is guaranteed.

The intake uses a fully enclosed black anodized aluminum flange which houses the high flow triple layer conical filter.
As a ram air intake, it draws cold, dense air directly from the leading edge of the front panel under the leading edge of the hood.
Meanwhile, the intake kit is fully sealed which means intake air is drawn only from outside the engine bay - not the hot engine bay air which can affect engine designs. admission not closed.

Don't get me wrong, you'll hear the rich induction noise of this race-bred intake system as soon as you accelerate hard for the first time.
With the increased airflow of this system, you won't miss the sound of your dump valve opening as you slack off between gears.
Why modernize my car with parts from DYNAPARTS ?
No doubt about it, your Volkswagen is unrivaled in its engineering. But of course the intake kits are carefully developed and tested to meet a range of general requirements, for a range of different drivers.

There are drivers who prefer to adapt their Volkswagen to the way they use their car and their personal tastes. For many of these owners, modifying their car to their liking is one of the most enjoyable aspects of ownership!
That's where RacingLine's RacingLine Performance Parts range RacingLine in.
Through our racing and track developments over the past decade, we have learned how to improve the performance and reliability of modern Volkswagens for enthusiastic drivers.
Of course, these parts are developed and tested under the most demanding conditions.

Therefore, you are assured of the highest quality parts that match your vehicle and enhance your enjoyment of your Volkswagen.
DYNAPARTS direct intake kits are now supplied with an adapter hose for mounting on an EA888 gen3 or EA888 gen4 platform.
Combined with a large BMC "Twin-air" filter, for maximum flow, our kit allows a gain of 34Nm and 9hp measured on a test bench on a Golf 8 GTI.

The advantages of this kit:
Specific air box with double flow diffuser
Filtration surface of 96.47mm² vs 43.2mm² of origin
Plug&Play Direct mounting
Complete kit ready to install with instructions

Trifoam High flow triple layer washable filter

Specific carbon finish airbox

Increased sound

Washable and reusable high performance filters
Air diffusers based on the standard scoop of your vehicle
High Flow Custom Intake Elbows
Very high quality gloss finish
Sealed and partitioned system
Instructions and mounting hardware included
Made in UK
This kit is compatible for:
Volkswagen Golf 8 GTI 2.0 TSI EA888 DNPA
Volkswagen Golf 7 GTI R 2.0 TSI EA888 Gen3 MQB
AUDI S3 8V 8Y 2.0 TSI EA888
CAN YOU FIND IT CHEAPER? WE ALIGN !
CAN YOU FIND CHEAPER ON A FRENCH WEBSITE? WELL WE ARE ALIGNING*! MORE INFORMATION below.
* If you find a DYNAPARTS reference new sold by a professional French website and which specializes in the sale of car parts to individuals, that you are a non-professional customer, contact us, we will match its price after verification.

Offer valid excluding sales and exceptional destocking. Only valid on references currently available on the official DYNAPARTS website.
The RacingLine group is based in Milton Keynes, UK. We are a leading partner of the Volkswagen Group and to many we are known for offering the Volkswagen Racing Motorsport program since 1997. It was out of this world and now sold all over the world.
Over the years we have managed the Volkswagen Motorsport Program, we have had the privilege of building any of the above vehicles, competing in the first levels of racing and rallying on behalf of the manufacturer worldwide . Throughout, we have been engaged in a program of constant motorsport technical development for our own racing and rally cars, as well as our customers around the world - with great success.
And it is this unparalleled experience with the Volkswagen group, both thanks to the "works" and to the relationship that we have with the equipment manufacturers that we have developed to drive and deliver. world. We believe we are bringing a different approach to the performance secondary market.
Meanwhile, with our ever-growing Performance Parts program, RacingLine motorsport RacingLine beats as hard as ever. In collaboration with Audi Sport, Volkswagen Motorsport and SEAT Sport, we organize and promote the FIA Formula 4 Championship in the UK, discovering the stars of single-seater racing of the future. And of course our own Audi R8 GT endurance racer is a project that keeps our passion at the forefront.
But the RacingLine group is not limited to the Performance Parts and Motorsport programs for which many know us.
Our in-house event company, RacingLine Events, is also a premier supplier to the Volkswagen Group, offering hundreds of corporate events for various automotive brands, ranging from international vehicle launches, to high performance driving events, to training of builders, conference and incentive work.
RacingLine Group is passionate about Volkswagen Group products (and, let's be honest, makes them go faster) with the guarantee of quality and accountability that comes from our close 20-year relationship with the manufacturer.
We hope you enjoy our site and thank you for choosing RacingLine .