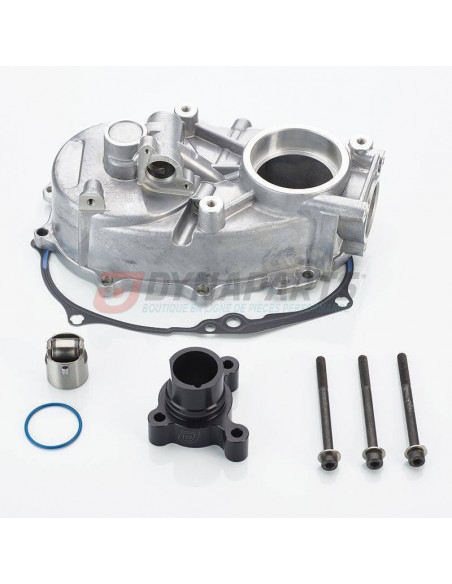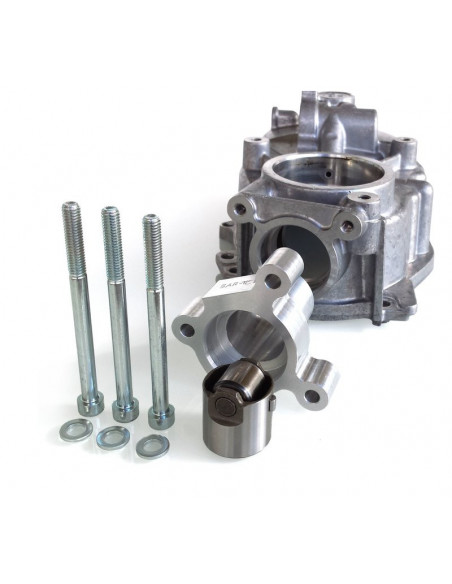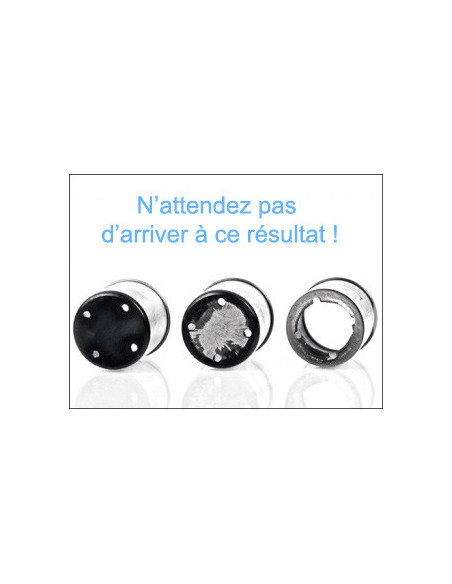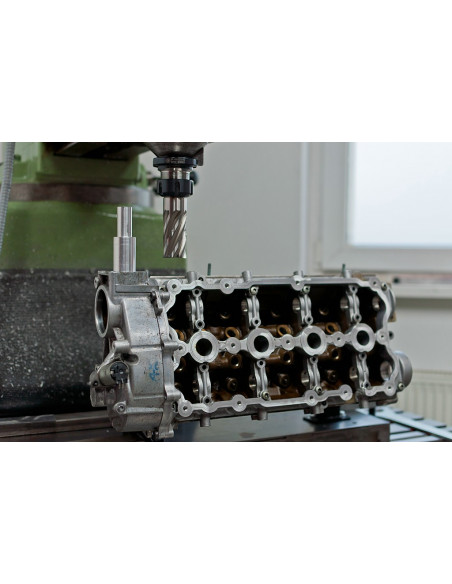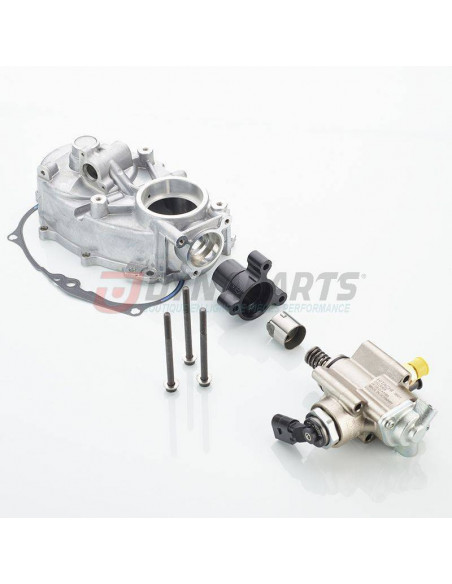 COMPLETE kit already machined housing conversion Cam follower to Roller Cam for 2.0 TFSI EA113 - Golf 5 GTI / Golf 6 R / Audi S3
Here is our COMPLETE Cam follower to Roller Cam conversion kit with housing already machined for 2.0 TFSI EA113 which are mounted for example on Volkswagen Golf 5 GTI / Golf 6 R / Audi S3 8P
Tired of faulty cam follower pump lifters? Here is our Cam Follower hydraulic tappet to roller tappet conversion kit for the 2.0L TFSI Ea113 high pressure pump, this kit offers you THE best optimal solution!
The conversion kit to roller tappets has the advantage that the contact surface of the cam is much larger than that of the original hydraulic tappet. As a result, the force can be better distributed and less friction and shear forces are generated at one point. Thus, defective pump lifters are a thing of the past. Faulty pump lifters can irreparably damage the cam on the camshaft. Thus, the intake camshaft must be completely replaced. In addition, chips resulting from the defect may fall into the oil pan. There, the balancer shaft module rests together with the oil pump. Damage to this module most often causes capital engine damage.
Another advantage is the better guidance of the pump piston. Thus, a leak of the high pressure pump is avoided. The high pressure pump shaft seal may leak over time and fuel will enter the oil system. As a result, the oil loses its lubricating properties and bearing damage occurs at the connecting rods !
This kit is a COMPLETE kit with the crankcase already machined
(the pump is not supplied with it, it is present in the photo as an example)
Included in the kit is:
Roller tappet for the high pressure pump
Carter already machined plug&play
Spring with adjusted spring rate
New gasket for chaincase
CNC milled adapter flange
Screws with galvanized washers
Please note: your original camshaft housing must be machined.
This kit is compatible for:
Suitable for
Audi A1/S1 8X | BJ 2010-2018 2.0L TFSI (EA113) CDLH | 256 HP
Audi A3 / S3 / RS3 8P, 8PA | BJ 2003-2013 2.0L TFSI (EA113) AXX | 200 PS
Audi A3 / S3 / RS3 8P, 8PA | BJ 2003-2013 2.0L TFSI (EA113) BHZ | 265 PS
Audi A3 / S3 / RS3 8P, 8PA | BJ 2003-2013 2.0L TFSI (EA113) BPY | 200 PS
Audi A3 / S3 / RS3 8P, 8PA | BJ 2003-2013 2.0L TFSI (EA113) BWA | 200 PS
Audi A3 / S3 / RS3 8P, 8PA | BJ 2003-2013 2.0L TFSI (EA113) CDLA | 265 PS
Audi A4 / S4 / RS4 B7 (Type 8E) | BJ 2004-2008 2.0L TFSI (EA113) BGB | 200 PS
Audi A4 / S4 / RS4 B7 (Type 8E) | BJ 2004-2008 2.0L TFSI (EA113) BPG | 200 PS
Audi A4 / S4 / RS4 B7 (Type 8E) | BJ 2004-2008 2.0L TFSI (EA113) BUL | 220 PS
Audi A4 / S4 / RS4 B7 (Type 8E) | BJ 2004-2008 2.0L TFSI (EA113) BWE | 200 PS
Audi A6 / S6 / RS6 C6 | BJ 2004-2011 2.0L TFSI (EA113) BJ | 170 HP
Audi TT / TTS / TT RS 8J | BJ 2006-2014 2.0L TFSI (EA113) BPY | 200 PS
Audi TT / TTS / TT RS 8J | BJ 2006-2014 2.0L TFSI (EA113) BWA | 200 PS
Audi TT / TTS / TT RS 8J | BJ 2006-2014 2.0L TFSI (EA113) CDLB | 272 PS
Seat Altea | BJ 2004-2015 2.0L TFSI (EA888) BWA | 200 PS
Seat Exeo I (Type 3R) | BJ 2008-2013 2.0L TFSI (EA113, EA888) BWE | 200 PS
Seat Leon II (Type 1P) | BJ 2005-2012 2.0L TFSI (EA113) BWA | 185 PS
Seat Leon II (Type 1P) | BJ 2005-2012 2.0L TFSI (EA113) BWA | 200 PS
Seat Leon II (Type 1P) | BJ 2005-2012 2.0L TFSI (EA113) BWJ | 240 PS
Seat Leon II (Type 1P) | BJ 2005-2012 2.0L TFSI (EA113) BWJ | 286 PS
Seat Leon II (Type 1P) | BJ 2005-2012 2.0L TFSI (EA113) BWJ | 310 PS
Seat Leon II (Type 1P) | BJ 2005-2012 2.0L TFSI (EA113) CDLA | 265 PS
Seat Leon II (Type 1P) | BJ 2005-2012 2.0L TFSI (EA113) CDLA | 310 PS
Seat Leon II (Type 1P) | BJ 2005-2012 2.0L TFSI (EA113) CDLD | 240 PS
Seat Toledo III (Type 5P) | BJ 2004-2009 2.0L TSI (EA113) BWA | 200 PS
VW Eos I (Type 1F) | BJ 2006-2015 2.0L TFSI (EA113) BWA | 200 PS
VW Golf V (Type 1K) | BJ 2003-2008 2.0L TFSI (EA113) AXX | 200 PS
VW Golf V (Type 1K) | BJ 2003-2008 2.0L TFSI (EA113) BPY | 200 PS
VW Golf V (Type 1K) | BJ 2003-2008 2.0L TFSI (EA113) BWA | 200 PS
VW Golf V (Type 1K) | BJ 2003-2008 2.0L TFSI (EA113) BYD | 230 HP
VW Golf V (Type 1K) | BJ 2003-2008 2.0L TFSI (EA113) CDL | 240 PS
VW Golf VI (Type 5K1) | BJ 2008-2012 2.0L TFSI (EA113) CDLF | 270 PS
VW Golf VI (Type 5K1) | BJ 2008-2012 2.0L TFSI (EA113) CDLG | 235 PS
VW Passat B6 (3C) | BJ 2005-2010 2.0L TFSI (EA113) AXX | 200 PS
VW Passat B6 (3C) | BJ 2005-2010 2.0L TFSI (EA113) BWA | 200 PS
VW Polo V (Type 6R) | BJ 2009-2014 2.0 WRC (EA113) CDLJ | 220 PS
VW Scirocco III (Type 13) | BJ 2008-2017 2.0L TSI (EA113) CDLA | 265 PS
VW Scirocco III (Type 13) | BJ 2008-2017 2.0L TSI (EA113) CDLK | 280 PS