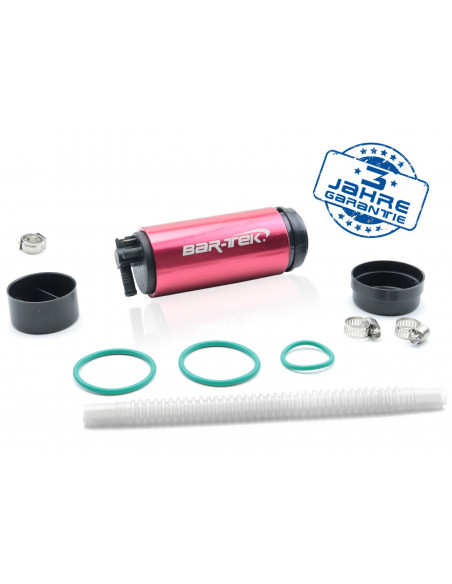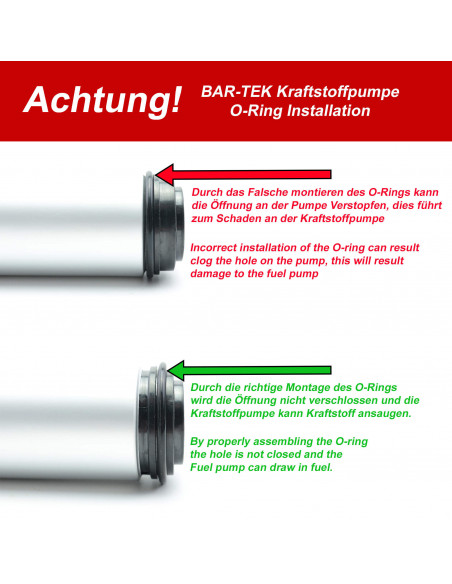 BAR-TEK 600hp high flow fuel pump kit for 1.8T 20VT engine Golf 4 / Audi A3 S3 8L / Audi TT 8N AGU BAM APY
As you must know, the fuel pump is a key component that should not be overlooked if you want to upgrade to Stage 3 or Stage 2+ on your 1.8T 20VT engine.

Fuel pump for high flow planned for 600hp from BAR-TEK !
The problem with many replacement pumps with tuned engines is that the engine does not get fuel for a short time when 1/4 full in turns.

This can cause the motor to stutter or even stop. Some replacement pumps have the problem that the original fuel pump bracket must be machined. As a result, the pump is not deep enough in the reservoir.
We have the right solution for this problem.
BAR-TEK 600hp plug&play high flow fuel pump kit for 1.8T 20VT engine Golf 4 / Audi A3 S3 8L / Audi TT 8N AGU BAM APY
The upgrade of the low pressure pump planned for more than 600hp to avoid a dangerous inclination of the engine.
No other changes, e.g. reprogramming necessary, however we also recommend replacing the high pressure pump.
The most powerful pump on the market with a flow rate at 3 bar of 390 L/h!
Version 1 only for FWD 2WD front-wheel drive models:
Audi TT 00-06 1.8T
Audi A3 8L 1.8T
VW Golf 4 99-06 1.8T
VW Jetta 99-05 1.8T
VW Beetle 98-10 1.8T
VW Passat 98-05 1.8T
Version 2 for AWD Quattro all-wheel-drive models:
Audi S3 1.8T Quattro only
Audi TT (8N) 2000 - 2006 - Quattro only
We strongly recommend that you increase the cross-sections of the power cable, for example with our wiring kit, otherwise the warranty will be lost!
This pump is ideal for E85 ethanol conversions
REMINDER: This kind of modification strongly requires you to let your preparer carry out this installation, we cannot be held responsible for the slightest problem following your installation.
Bartek: from Formula 1 training to the leading online shop for tuning parts
BAR-TEK: concrete facts
Founded in 1999
15 years of experience in motor racing
10 years of Formula 1
73 Formula 1 races took part
Advanced training
Bartek was trained at Toyota as an engine technician and supported the Formula 1 team in 73 races and numerous tests at various circuits around the world until 2009. He is fully dedicated to his company BAR-TEK Motorsport since 2010.
Risky situation
Bartek during Jarno Trulli's Formula 1 pit stop in Barcelona in 2005. Despite the fire, Trulli came in second. In 2005, Toyota reached fifth place in the Formula 1 constructors' championship.
Engine mechanic for Ralf Schumacher
Bartek with passion and joy at work. From 2004 responsible for the Formula 1 engine of Ralf Schumacher as an engine mechanic.
Solid training
With his training as an auto mechanic with an emphasis on engines and gear construction, Bartek began his career in auto racing. Even as a little boy, Bartek took vehicles apart and put them back together - in an improved way. After graduating from high school, he needed oil on his fingers again.
One winner - Audi 50 (Polo 1)
1.1 L with Kugelfischer racing fuel injection. With KW L Motorsport, Bartek celebrated the overall victory of the Youngtimer Trophy 98/99.
uwe-reichdURVgvR2eShEEbarteks-erster-polo
Follow the commitment for Uwe Reich
1997 at the Nürburgring Nordschleife. Audi 50 with double carburetor by Weber in the Youngtimer Trophy.
First polo shirt
The first wheelset: the Polo 1 40 with double carburetor from Weber and 129 hp, with a vehicle weight of up to 650 kg!
Everything from a single source - from know-how to installation and from own developments to measure
Before we sell a new product, we first test it in our own vehicles. It is only when the installation is successful and we have tested it on our own 1000 PS dynamometer that it enters our store.